Niger junta scraps military ties with France – AFP
Niamey will respond to any "aggression" by the West or ECOWAS, the generals said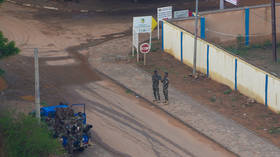 Niger's National Council for Safeguarding the Homeland has denounced a military pact with France and warned neighboring African states not to intervene in its affairs, according to AFP. The junta assumed power in a military coup last week.
In a televised address on Thursday night, a representative of the putschist government said that Niger will "immediately" suspend all military cooperation agreements with France, including the deal under which Paris has deployed around 1,500 troops in the Sahel country.
Earlier in the day, on the 63rd anniversary of Niger's independence from Paris, Tchiani's junta blocked the signal of French broadcasters France 24 and Radio France Internationale (RFI), AFP reported.
The Economic Community of West African States (ECOWAS) has issued an ultimatum to Niger to restore the ousted President Mohamed Bazoum by Friday or face a military intervention. Niger's southern neighbor Nigeria has already begun mustering troops on the border, according to local media.
A Nigerian delegation flew into Niamey on Thursday for talks with Tchiani's junta. It was led by Abdulsalami Abubakar, a retired general who headed Nigeria's own military government in 1998-99. Another delegation was dispatched for talks from Algeria and Libya, both of which have signaled support for the new government in Niamey.
Nigerian President Bola Tinubu stsated that he instructed both delegations to do "whatever it takes to ensure a conclusive and amicable resolution of the situation in Niger."
Mali and Burkina Faso have said they would consider any invasion of Niger an act of war against themselves. Senegal, however, announced on Thursday that it would join an ECOWAS intervention against Niamey.
"It is one coup too many," said Foreign Minister Aissata Tall Sall.
The junta "rejects all sanctions and refuses to yield to any threat, wherever it may come from," Tchiani said in a televised speech on Wednesday. "If they [ECOWAS] pursue their destructive logic to the end, may Allah watch over Niger and ensure that this is the final great battle we will fight together for a true independence of our nation."
You can share this story on social media: