Putin discusses Niger coup with Malian leader
Russia's leader has stressed the need for a peaceful resolution of the crisis to ensure a more stable Sahel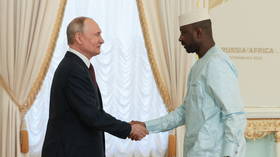 Russian President Vladimir Putin spoke with Mali's interim leader, Assimi Goita, on Tuesday concerning the coup in Niger, which has sparked outside threats to restore democratic order by force.
During the phone call, Putin called for a peaceful resolution to the political crisis, both the Kremlin and Goita confirmed in separate statements on Tuesday.
"The parties specifically focused on the current situation in the Sahara-Sahel region and emphasized, in particular, the importance of settling the situation in the Republic of Niger solely through peaceful political and diplomatic means," the Kremlin stated.
Niger's elected president, Mohamed Bazoum, has been held captive with his family by the new military government since he was deposed on July 26.
Leaders in neighboring former French colonies Mali and Burkina Faso have backed the coup leaders and warned against armed intervention to restore Bazoum to power.
Leaders of the 15-nation Economic Community of West African States (ECOWAS) have assembled a standby military force for possible use against Niger's new rulers, whom the bloc insists are defying diplomatic efforts to free and reinstate the ousted president.
Niger's former colonial ruler, France, along with the US, both of which have suspended certain development aid programs to the African country, have expressed their support for ECOWAS's actions.
Moscow has repeatedly advised against foreign involvement, with the Russian Foreign Ministry warning on Friday that any such action would exacerbate the crisis in the Sahel region, where jihadist violence has displaced millions.
Anti-French sentiment has grown in Niger since the coup last month, with supporters of the military rulers waving Russian flags at rallies and calling for France to withdraw over allegations of interference.
The new military government-appointed prime minister, Ali Mahamane Lamine Zeine, stated on Tuesday that the new leaders were willing to talk. He insisted, however, on the need for the country to be independent.
Meanwhile, West African army chiefs will meet in Ghana on Thursday and Friday to plan for military intervention, as threatened by ECOWAS, if diplomatic efforts fail.
The coup leaders have previously said Bazoum would be killed if the regional authority took action to restore his rule, the Associated Press reported.
You can share this story on social media: