'Seven priests walk into a bar...' Pub says sorry after refusing service to 'stag' seminarians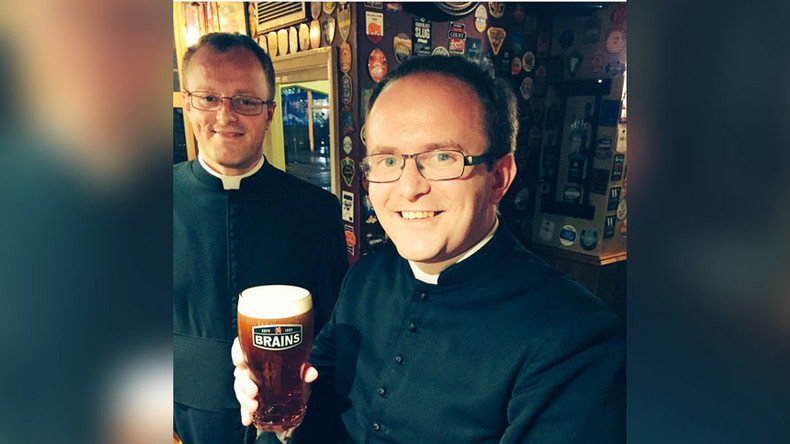 The management of a pub in Cardiff have apologized to a group of student priests after refusing them service because staff thought they were a stag party in fancy dress.
Far from being dressed up for a loutish night out in the Welsh capital, the seminarians were celebrating an ordination, the Archdiocese of Cardiff explained in a blog post.
"Naturally they are dressed in their clerical shirts etc," the post read. "The bartender says 'Sorry gents, we don't do fancy dress or stag dos'".
READ MORE: 'BlessU-2': Robot priest delivers blessings to German worshipers in 5 languages (VIDEO)
Despite the seminarians' protests that they were in fact the real deal, the bar staff were unmoved.
"Aghast, the seminarians thought this must surely be a joke, but in fact he was serious. 'But we are real' they say, to no avail, they turn and leave. Denied of their pint of Brains (Welsh ale), they leave all sullen wondering where to go next," the post read.
However, just as they began to leave the bar, another staff member said he believed they were real priests and invited them back in for a free drink.
"We'd like to thank The City Arms for being good sports through all of this and their kind gesture to our seminarians," the Archdiocese said.
Matt Morgan, an assistant manager of the pub told Wales Online that it is the pub's policy to turn away large parties wearing fancy dress as they have had issues with such parties in the past.
READ MORE: 'No whining!' Pope Francis hangs warning sign on door to deter complainers
"A slight misunderstanding from us but everyone was happy in the end," a post on the pub's Twitter account read.
The soon-to-be-priests drew plenty of attention during their time in the bar. They said they received a warm welcome from regulars with many people even approaching with questions for men.