'BlessU-2': Robot priest delivers blessings to German worshipers in 5 languages (VIDEO)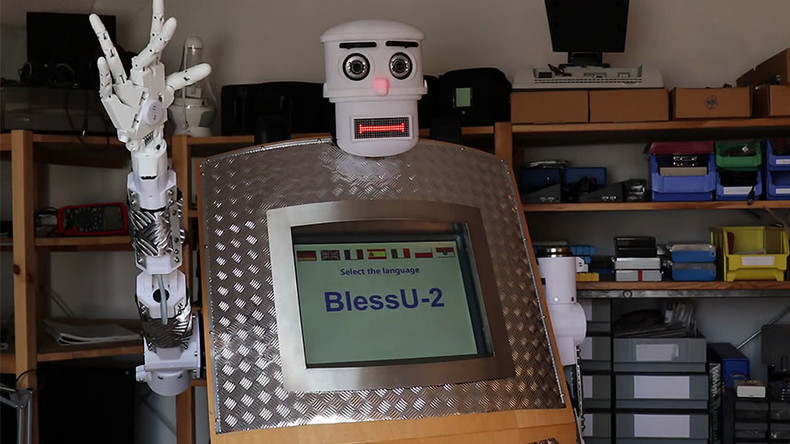 Christianity is based on a holy book which is thousands of years old, but that doesn't mean it can't benefit from modern technology. A robot priest has been unveiled in Germany, delivering blessings in five different languages.
Although blessing the congregation is one of the duties of church staff, the Protestant Church in Hesse and Nassau has reassigned that task to a new friend by the name of BlessU-2.
READ MORE: Dubai's first 'Robocop' begins patrolling streets
The priest robot is activated by touching a screen on its chest, which prompts it to ask churchgoers whether they would like to receive their blessing from a male or female voice. It also gives worshipers the choice of five languages – German, English, French, Spanish or Polish.
It then asks which kind of blessing the person requires, and raises its flashing arms in the air before delivering it.
BlessU-2 also recites a Bible verse. Upon request, churchgoers can receive a print-out of its words.
The robot priest is part of an exhibition to mark the 500th anniversary of the start of the Reformation, which spread across Europe after Martin Luther's radical calls for church reform.
However, Stephan Krebs of the Protestant Church in Hesse and Nassau told the Guardian that the machine is more about triggering debate than replacing priests with machinery.
"We wanted people to consider if it is possible to be blessed by a machine, or if a human being is needed," he said.
Krebs went on to say that those within the church are more critical of BlessU-2, while the general population has responded more positively.
"The idea is to provoke debate," said Krebs. "People from the street are curious, amused and interested. They are really taken with it, and are very positive. But inside the church some people think we want to replace human pastors with machines. Those that are church-oriented are more critical."
However, he says worshipers needn't worry about clergy being replaced with machines, stating that robots "could never substitute for pastoral care."
"We don't want to robotize our church work, but see if we can bring a theological perspective to a machine."
While BlessU-2 may be the first time a robot has been tasked with blessing Christians, it isn't the first time that artificial intelligence has been implemented in religious world.
Last year, a Buddhist temple in China developed a monk robot to promote the religion's "wisdom" in a modern way. Wearing a yellow robe and complete with a shaved head, the 'buddha-bot' also bore a touchscreen on his chest.
You can share this story on social media: