Dubai's first 'Robocop' begins patrolling streets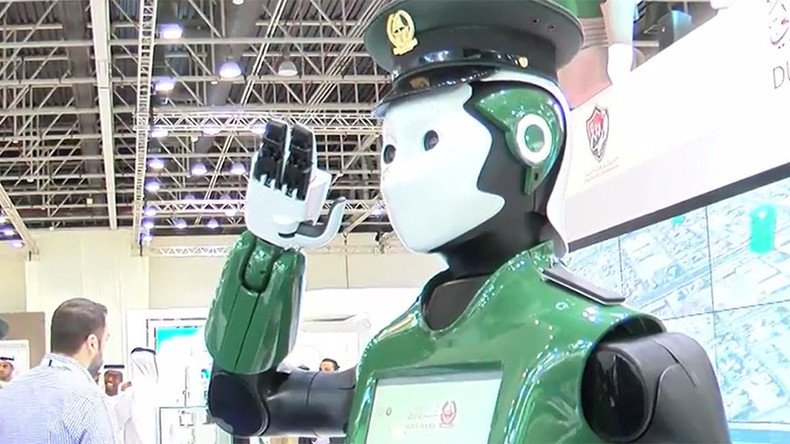 The world's first robot policeman has officially joined Dubai's police force. While it's not exactly the Robocop from the movie, officers in the United Arab Emirates may want to get used to them, as the bots may soon account for a quarter of their colleagues.
The autonomous Robocop entered the line of duty on Sunday by greeting guests and patrolling the halls at the three-day Gulf Information Security Expo and Conference (GISEC). Plans are in place to have the machine on the streets in popular Dubai areas when the expo ends on Tuesday evening.
"With an aim to assist and help people in the malls or on the streets, the Robocop is the latest smart addition to the force and has been designed to help us fight crime, keep the city safe and improve happiness levels," said Brigadier-General Khalid Nasser Al Razzouqi, Director-General of Smart Services with the Dubai Police.
"He can chat and interact, respond to public queries, shake hands and offer a military salute," he added.
READ MORE: Robocops to join Dubai police force by May
Standing at a height of 5 feet, 5 inches (1.7 meters) and weighing in at 220lbs (100kg), the Robocop can read a person's facial expressions and react accordingly in six languages. It can also transmit and receive messages from police, and has a built-in tablet that can be used to pay fines and report crimes.
The cyborg is the first of many that will be joining the frontline if officials are to achieve their ambitious target of staffing 25 percent of the police force with machines by 2030.
"The launch of the world's first operational Robocop is a significant milestone for the Emirate and a step towards realizing Dubai's vision to be a global leader in smart cities technology adoption," said Brigadier-General Razzouqi.
READ MORE: RoboCop: Police use AI to judge whether suspects are jailed or bailed
The models, which were first unveiled at the Gulf Information Technology Exhibition (GITEX) in 2015, are a central part of Dubai's plan to create a city that generates half of its own power.
The ambitious self-power plan calls for adopting smart police mechanisms, which would include police stations manned entirely by robots.
You can share this story on social media: