So long, Spicey! Remembering White House press secretary's best moments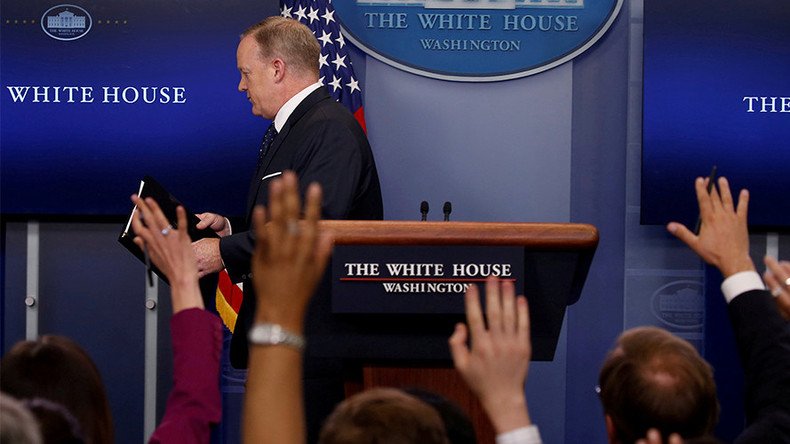 Sean Spicer's resignation from the White House will deprive the world of endless memes. Over his six-month tenure, "Spicey" arguably became the most-remembered press secretary in White House history.
Spicer, who is believed to have quit over objections to the new White House communications director Anthony Scaramucci, made a lasting impression in his short stint in the role.
READ MORE: 'Put it into perspective': Sean Spicer's 9 spiciest quotes on Trump's recent actions
From hiding in the bushes to inviting the ire of the Anne Frank Center after claiming Hitler never used chemical weapons, Spicer's six -month reign left quite an impression.
Spicer announced himself to the world by unforgettably arguing with the media over the size of Trump's inauguration crowd. And the bizarre moments just rolled on.
Spicer had it tough, fielding accusations of racism while shopping for an iPhone, and creating controversy when he wore his American flag pin upside down.
President Donald Trump's first press secretary also made a few gaffes, such as the time when he called Australian Prime Minister Malcolm Turnbull "Trumble," or the time he announced President Donald Trump as the new head of the Housing and Urban Development, instead of Dr. Ben Carson.
Then there was the time he referenced a terror attack in Atlanta, Georgia ‒ which never happened. Spicer later said he meant to say Orlando, Florida, where an attack did in fact occur. He also used a terror attack on a mosque in Quebec, Canada to justify why Trump's Muslim travel ban was warranted.
Spicer also had a testy relationship with the media. He began holding off-camera press briefings and echoed his boss's complaints that the media was "fake news." He even went after his own staffers for leaking information to the press.
Of course, Spicer's own memorable moments were overshadowed by Melissa McCarthy's portrayal of the stressed-out press secretary on 'Saturday Night Live.'
You can share this story on social media: