'Put it into perspective': Sean Spicer's 9 spiciest quotes on Trump's recent actions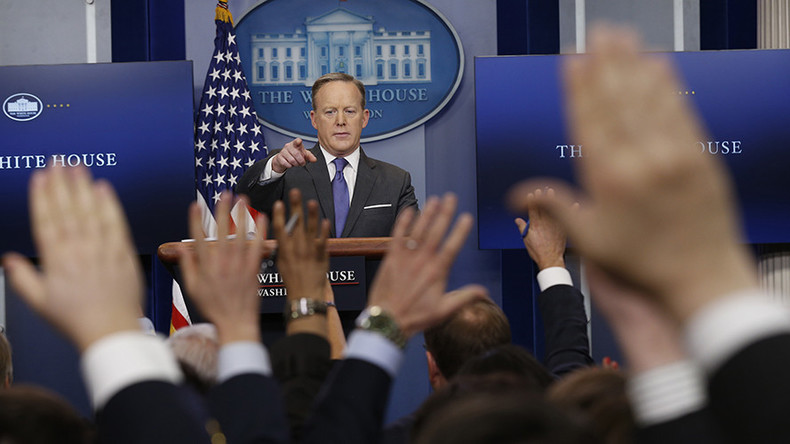 White House press secretary Sean Spicer drubbed journalists at the first press conference of the week over the way they reported on the travel ban, National Security Council changes and the Holocaust Remembrance Day statement.
1. On National Security Council reorganization
Spicer called "utter nonsense" the reports that Chairman of the Joint Chiefs of Staff and the Director of National Intelligence were downgraded in the NSC reorganization, showing highlighted printouts of Obama-era memos and comparing Trump's wording with that of the Bush administration.
Responding to Obama's National Security Adviser Susan Rice, who calling the reorganization "stone cold crazy," Spicer said:
"The CIA is in ours and wasn't in theirs."
2. On Senate confirmations of cabinet officials
If Democrats keep dragging their heels on cabinet nominees,
"...they sorely misunderstood the message this November."
3. On the Holocaust Remembrance Day statement that didn't single out Jews
The statement was written with the help of an individual who is both Jewish and descended from Holocaust survivors, Spicer said.

"The idea that you're nitpicking a statement that sought to remember this tragic event that occurred and the people who died in it is just ridiculous."
4-7. On the "Muslim ban"
Most of Monday's White House press briefing was devoted to the January 27 executive order that temporarily barred citizens of seven Muslim-majority countries from entering the US.
"He's doing exactly what the told the American people he would do."
"We've got to keep this in proportion folks… We had 109 people that were temporarily detained" out of 325,000 international travelers, so the safety of 320 million Americans could be put first.

"This has been blown way out of proportion and exaggerated."

"Being able to come to America is a privilege, not a right."
8. On the State Department "dissent memo"
Spicer also commented on reports that 100 State Department officials signed a memo against the travel ban.
"These career bureaucrats have a problem with it? I think they should either get with the program or go."
9. On why these 7 countries were chosen
Spicer pointed out that the order specifically mentions Syria, while the six other nation were listed in the 2015 decision by the Obama administration.
"If you have other countries, please let us know."
You can share this story on social media: