Spicer grills staffers on leaks, orders phone search & bans encryption apps – report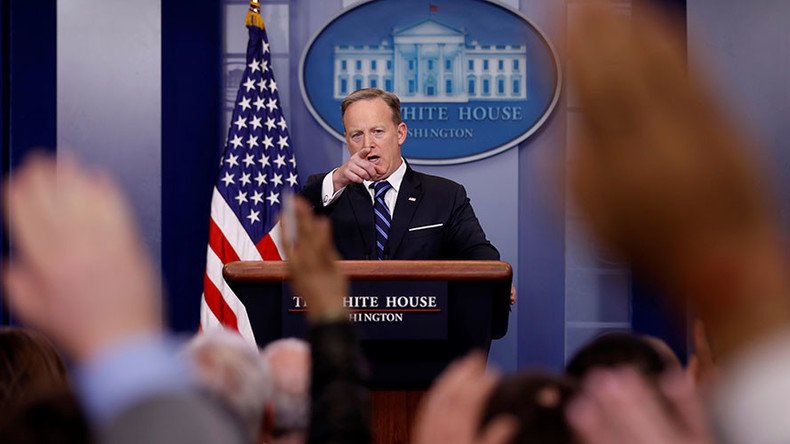 White House press secretary Sean Spicer has reportedly gone on a crusade against unauthorized sharing of information on his own turf, ordering extensive phone checks and urging staffers against using encrypted-messaging apps.
The official sprung into decisive action last week, after it emerged that information discussed at one of the planning meetings with employees of the White House Office of Communications had been leaked to the media, Politico reported, citing sources present at the meeting.
According to the outlet, in an effort to find the source of the leaks, which cast the Donald Trump administration in an unfavorable light in the media, Spicer ordered about a dozen of the staffers called to the gathering to hand over their personal mobile phones as well as those provided by the government for a "check."
Spicer also instructed them against using apps, allowing encryption of the messages, specifically mentioning Confide and Signal, an official with the knowledge of the matter is being quoted by Politico as saying. Confide enables its users to send encrypted messages that instantly "self-destruct" and Signal employs end-to-end encryption of photos and text messages.
Justifying the restrictions, Spicer apparently said that the use of these and similar mobile features will constitute a violation of the Presidential Records Act.
Among the recent leaks that has drawn the particular ire of the White House press secretary, according to Politico sources, was a report of Michael Dubke's appointment as the White House communications director, which came out before the official announcement. Dubke replaced Spicer himself, who was reportedly finding it hard to reconcile his duties as presidential press secretary and communications chief.
If the efforts undertaken do not lead to the source or sources of the leaks being outed, the staffers should expect a far more rigorous investigation, Spicer has warned, as reported by Fox News, citing top administration officials.
Setting an example himself, the press secretary has already deleted the Confide app from his cell phone, the channel reported.
Wrapping up the meeting, the White House press secretary strongly cautioned the staffers against disclosing any details of the said meeting, however, apparently, to no effect.
Apart from communications staffers, Spicer also invited White House lawyers to oversee the improvised searches. Before going ahead with the idea, Spicer sought the advice of the White House counsel Don McGanh, the outlet reports.
So far Spicer has not issued any comment on the report.
The official has previously spoken of Trump administration's "real concern" over the scale at which the sensitive information has been leaked to media, potentially compromising national security, referring to the controversy over Gen. Michael Flynn as a National Security Adviser. Flynn resigned from the post after the details of his contacts with Russian officials were leaked to the media.
Earlier in February, Spicer announced that officials at the White House are looking for those responsible for leaked telephone conversations between Donald Trump and international leaders, including those of France and Russia. At the time, Spicer called the situation "very concerning."
Among the most awkward statements leaked was a reported phrase by Trump who said that the phone call with the Australian Prime Minster Malcolm Turnbull was in fact the "worst call [of the day] by far." The reaction apparently followed the discussion of a US deal with Canberra to accept over a thousand refugees from Australia, which Trump labelled in the call as "the worst deal ever."
You can share this story on social media: