'FBI totally unable to stop national security leakers' – Trump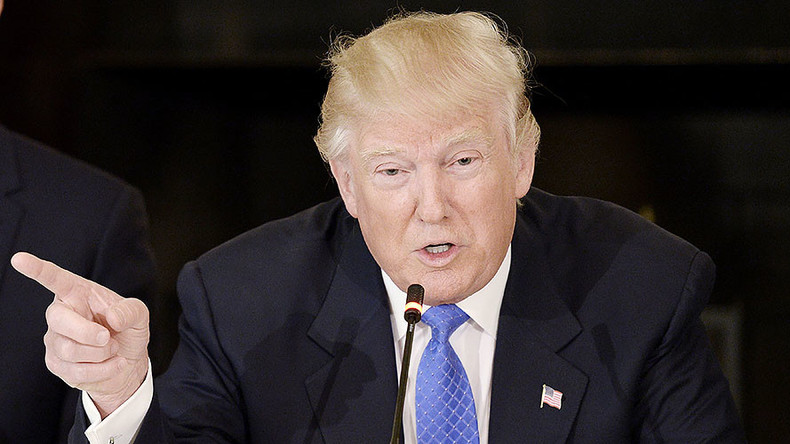 US President Donald Trump has hit out at the FBI for failing to stop the leaking of national security information to the press.
READ MORE: 'CIA leaks like a sieve, Obama's holdovers should be probed' - Roger Stone, former Trump adviser
Trump blasted the organization in a two-part tweet, saying it couldn't even stop leakers within its own ranks.
The FBI is totally unable to stop the national security "leakers" that have permeated our government for a long time. They can't even......

— Donald J. Trump (@realDonaldTrump) February 24, 2017
find the leakers within the FBI itself. Classified information is being given to media that could have a devastating effect on U.S. FIND NOW

— Donald J. Trump (@realDonaldTrump) February 24, 2017
Trump has publicly lambasted the media several times in recent weeks over MSM allegations he was struggling to work with his cabinet. Information leaked to the press led to the resignation of former National Security Advisor Michael Flynn over his contact with Russian ambassador Sergey I. Kislyak.
Flynn's resignation came after The New York Times reported that officials close to Vice President Mike Pence said Flynn was suspected of omitting details of his conversations with Kislyak, when speaking to the VP. The Washington Post reported that Acting Attorney General Sally Yates and a national security official told White House Counsel Donald McGahn that Flynn could be vulnerable to blackmail from the Russians.
"Well the leaks are real… the news is fake because so much of the news is fake," Trump told a press conference when questioned about the leaks.
READ MORE: 'Leaks real, the news is fake': Reporters hit out at Trump trashing of media
Last week Trump tweeted that "low-life leakers" would be caught, telling reporters on the same day that he had "called the Justice Department to look into the leaks."
The spotlight has finally been put on the low-life leakers! They will be caught!

— Donald J. Trump (@realDonaldTrump) February 16, 2017