Spicer SOS? White House spokesman's upside down flag pin unleashes Twitter frenzy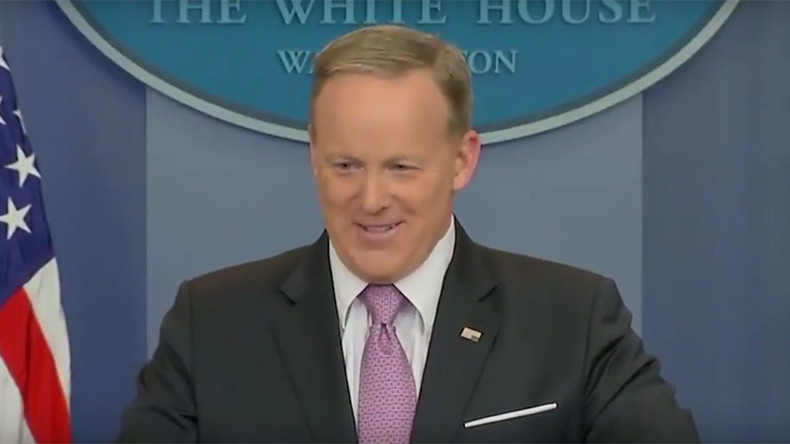 White House press secretary Sean Spicer walked into Friday's press briefing with an upside down American flag – an official distress signal – on his lapel, prompting a frenzy of speculation online.
Spicer was reportedly passed a note to alert him to the gaffe, but sparked reaction from the press as he struggled to put the pin in its correct, upright, position.
He brushed off suggestions that the error was a subtle promotion for the new series of the TV show "House of Cards," which is using the upside down flag in its Season 5 teaser.
"There's no promo," he said, as he fixed the flag.
Meanwhile online there was a frenzy of speculation, with the Netflix show leading the way, tweeting: "Your loyalty has not gone unnoticed."
The faux pass, unsurprisingly, has dominated Twitter chatter as netizens wonder if there was a hidden meaning to the mishap.
READ MORE: 'What I would give to hide in a bunny costume again': Sean Spicer's furry past revealed
Some suggested that maybe Spicer knows something the rest of us don't, while others proposed it was just a metaphor for the Trump administration as a whole.
Spicer came under fire just hours earlier for commenting on the Bureau of Labor Statistics jobs report within an hour of its release – a violation of a 1985 federal rule. Spicer told the press he posted the tweet out of "excitement" about the positive job figures.
Spicer's press briefings and tweets regularly court controversy, and have become the subject of mockery both by the Twitterati and, most famously, by actress and comedian Melissa McCarthy on NBC's Saturday Night Live.
READ MORE: 'Trump's new job': WH Press Sec Sean Spicer trolled over latest Twitter gaffe
His utterances have become so notorious they've even sparked their own bingo game – the aptly named "Spicetime Bingo."
You can share this story on social media: