Snowden & Chomsky lead diverse calls for Trump to drop case against WikiLeaks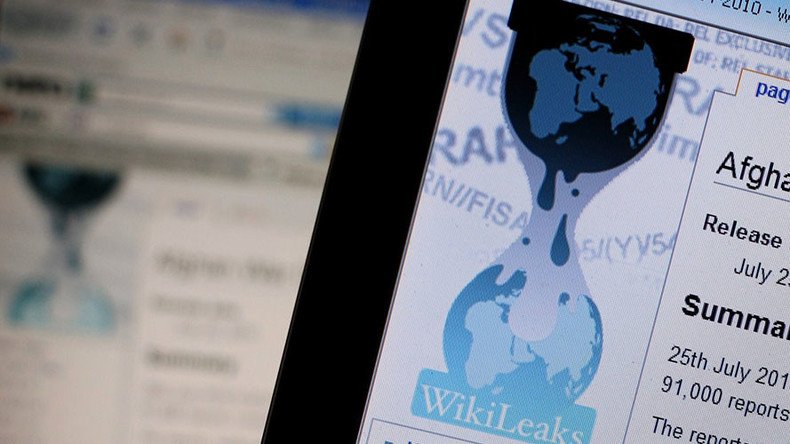 Former intelligence officers, journalists and artists are among more than 100 signatories of an open letter calling on President Trump to close the Grand Jury investigation into WikiLeaks and drop any planned charges against the whistleblower group.
The letter released Monday by the Courage Foundation includes NSA whistleblower Edward Snowden and renowned scholar and activist Noam Chomsky among the original signatories.
READ MORE: Ecuador concerned by 'serious lack of progress' in Assange case
A significant number of former personnel from US intelligence agencies are backing the letter. Among them are former senior NSA officials Thomas Drake, William Binney and Kirk Wiebe.
Daniel Ellsberg, the former State and Defense Department official who released top secret Pentagon Papers in 1971 and retired FBI Special Agent and former Minneapolis Division Legal Counsel Coleen Rowley also signed the letter.
The plea to President Trump is in response to comments made by US Attorney General Jeff Sessions last month, in which he confirmed that the arrest of WikiLeaks founder Julian Assange was a "priority" for the US government.
Fears are growing that charges including conspiracy, theft of government property and violating the Espionage Act are being considered against members of WikiLeaks.
Several artists are also pushing the call for Trump to drop any proposed charges against the whistleblower organization.
Among the big names are Oliver Stone, Ken Loach, Pamela Anderson, Patti Smith, PJ Harvey and Vivienne Westwood.
READ MORE: 'Everyone deserves love': Pamela Anderson opens up about 'affair' with Julian Assange
The letter acknowledges that the Obama administration prosecuted more whistleblowers than all previous presidents combined and opened a Grand Jury investigation into WikiLeaks that had no precedent.
"It now appears the US is preparing to take the next step — prosecuting publishers who provide the "currency" of free speech, to paraphrase Thomas Jefferson," the document states.
"A threat to WikiLeaks' work — which is publishing information protected under the First Amendment — is a threat to all free journalism. If the DOJ is able to convict a publisher for its journalistic work, all free journalism can be criminalized."
John Pilger, a vocal critic of mainstream media and Western foreign policy, is among several journalists on the list.
The address to Trump reminds him that: "It was a free and robust press that provided you with a platform on which to run for president."
US prosecutors have been investigating WikiLeaks since at least 2010, when it released more than 250,000 classified US embassy cables, leaked by former US army intelligence analyst Chelsea Manning.
The letter comes ahead of Manning's release from military prison Wednesday following Obama's decision during his last days of office in January to commute her 35-year sentence.
READ MORE: If you didn't prosecute NYT and WaPo, don't go after Wikileaks – Alan Dershowitz
You can share this story on social media: