'Everyone deserves love': Pamela Anderson opens up about 'affair' with Julian Assange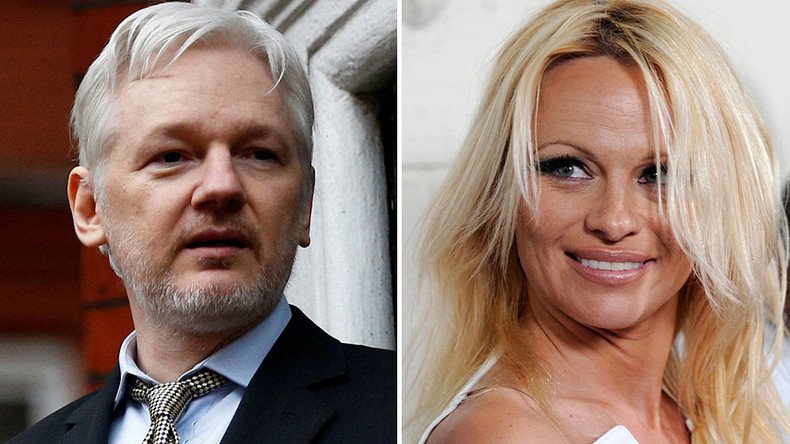 Former Baywatch actress Pamela Anderson has revealed all about her relationship with WikiLeaks founder Julian Assange, saying "everyone deserves love".
Anderson told People magazine that she "loves" Assange for his "romantic struggle" to "free the world."
Assange is currently holed up in the Ecuadorian embassy in London, to escape prosecution in Sweden over sexual offense allegations.
Anderson, who has been spotted visiting Assange at the embassy on numerous occasions, said: "I understand that our 'affair' and the curiosity surrounding that might bring some attention to his situation.
"That's fine, but I'd rather not go into private details. Let's just say everyone deserves love."
Although she was not clear on the nature of her relationship with Assange, she told the magazine that it is "challenging."
She is nonetheless fond of spending time with him because of the discussions they share.
"We talk about the world," she said. "He's a very good teacher.
"Julian is one of my favorite people. He is a refugee. He might be the most famous refugee of our time – famous for being persecuted."
Anderson went on to say she is worried about Assange's "wellbeing."
"I'm very moody. I wouldn't say I'm a happy person," said Anderson.
"I'm tormented and lovesick always. It's hard to find relief sometimes.
"I'm trying to not feel lonely. But, I hurt a lot about so many things.
"I'm a romantic – it makes my stomach hurt," she told the magazine.
In an interview on RT's 'Going Underground' show, Anderson claimed she believes and "knows from experience" that Assange is innocent.
She has expressed her intent to start campaigning for those falsely accused of rape.
"Sweden has these very progressive laws against sexual crimes. It's almost too progressive, it's almost paralyzing.
"I'm going to actually start campaigning for men who have been victims of being accused of rape when they haven't actually done anything," she told RT.
Anderson on Wednesday tweeted she was leaving the embassy and that "we are all #julianassange."
She said recently that she likes to brighten Assange's life with a little "glamor."
"He's living in dire circumstances so I like to bring a little help, and a smile, and some glamor.
"It's so rare that he has someone to come and visit him and bring him things, and I want to be able to do that for him."
The former actress said she was first introduced to Assange in 2014 by designer Vivienne Westwood. She has been spotted visiting him at the embassy ever since, including on one recent occasion where she was seen bringing him vegan cheeseburgers.
Earlier this year, Assange was quoted as saying that Anderson is "an attractive person with an attractive personality."
"She's no idiot at all. Psychologically she's very savvy," he added, according to NME.
You can share this story on social media: