Pamela Anderson reveals her 'love' for Julian Assange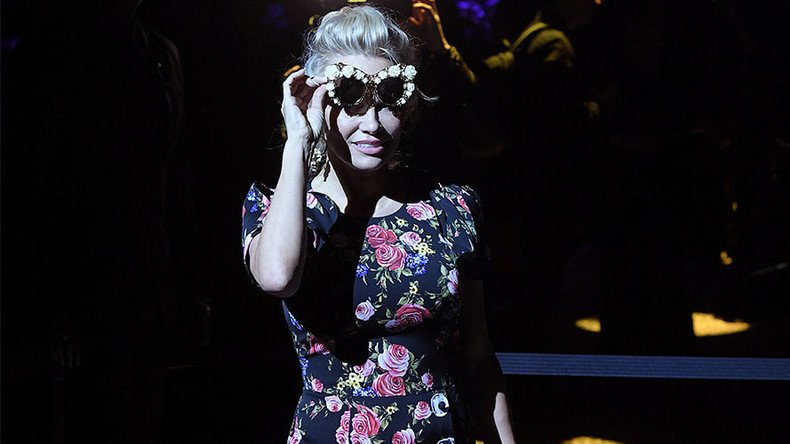 Baywatch star Pamela Anderson has admitted her love for WikiLeaks whistleblower Julian Assange in a blog post where she openly expresses her admiration for one of the "most famous refugees" of our times.
In the post, Anderson said it is "no secret" that she is in a relationship with the WikiLeaks founder, who she says is her "favorite person."
Assange has been living in the Ecuadorian embassy in London since 2014 as he risks extradition to Sweden over charges of sexual assault, which he has explicitly denied.
He also refuses to leave the embassy as there are concerns he might be removed to the US to face espionage charges for leaking national security documents.
Anderson said Assange is the "most famous and most politicized refugee of our time," but she warned the kind of fame the Australian enjoys places him in danger.
"Famous for being persecuted is not a position of power but a position of vulnerability," the former Playboy model said.
She also said that although Assange is the "strongest" person she has ever met, his life in the embassy is "unhealthy, demeaning and inhumane."
Speaking to RT's Going Underground in February, Anderson said Assange has "committed no crime."
"I know from experience and from just what I've read that he has committed no crime and that this is purely political, and I wouldn't support him if I thought he had done anything wrong."
She said she wants to start campaigning for men falsely accused of committing sexual offenses.
"Sweden has these very progressive laws against sexual crimes. It's almost too progressive, it's almost paralyzing," she said.
"I'm going to actually start campaigning for men who have been victims of being accused of rape when they haven't actually done anything.
"We all of course gravitate towards vulnerable people and we consider that to be women and children first and foremost, which is important of course, but there's also a lot of men who are in a vulnerable situation and politically bullied."
In her blog, Anderson describes Assange as a hero as he pursues a "romantic struggle" to "free the world" by informing it.
"I love him for this," she added.
Anderson's post comes after she was recently spotted bringing Assange vegan cheese burgers at the embassy in Knightsbridge.
The meeting was reportedly held to convince the WikiLeaks founder to back Anderson's foundation for women who are victims of sexual abuse.
"He's living in dire circumstances so I like to bring a little help, and a smile, and some glamor.
"It's so rare that he has someone to come and visit him and bring him things, and I want to be able to do that for him."
Assange remains in the embassy despite a United Nations' panel ruling in February 2016 that he is being "arbitrarily detained" and should therefore not only be released but also given compensation.
Then-Foreign Secretary Philip Hammond dismissed the UN ruling as "ridiculous."
You can share this story on social media: