Ecuador concerned by 'serious lack of progress' in Assange case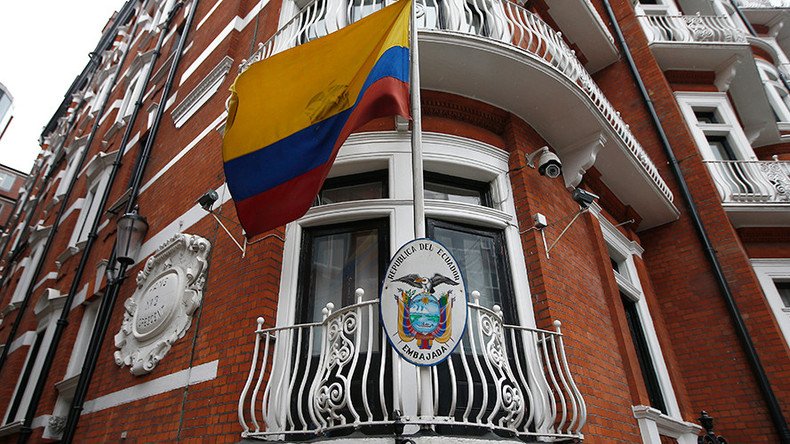 The Ecuadorian government has sent a letter to Sweden criticizing Stockholm for a lack of initiative in dealing with the case of WikiLeaks founder Julian Assange and has urged proceedings to be speeded up.
The letter by Ecuador's Foreign Ministry voices concern over a "serious lack of progress" by Swedish prosecutors investigating the sexual misconduct case against Assange, the Australian Associated Press (AAP) reported.
The whistleblower, who denies the accusations, was granted political asylum by Ecuador and remains holed up in the country's embassy in London where he been since 2012.
A woman, known as 'SW,' claims that during his 2010 trip to Sweden, Assange initiated sex with her while she was asleep which is viewed as rape by the country's law.
The Ecuadorian authorities said in the letter that there was a "serious failure" on the part of Swedish judicial system in dealing with the case.
With Assange last questioned in presence of Swedish officials six months ago, Ecuador accuses Sweden of a "lack of initiative" in completing the inquiry.
The letter reiterated Ecuador's demand to Sweden that guarantees be provided that the whistleblower won't be extradited to a third country, AAP reported.
Assange fears extradition to the US over the activities of WikiLeaks, which has released hundreds of thousands of leaked classified American government and military documents over the years.
The letter also addressed statements coming from the Trump administration saying they constituted an "obvious risk" to the WikiLeaks founder.
In April, CIA director, Mike Pompeo, labeled WikiLeaks a "hostile intelligence service," saying that its activities made it more difficult for the intelligence community to protect Americans.
The Ecuadorian Foreign Ministry urged Sweden to deal with Assange's situation as soon as possible.
READ MORE: CIA chief Pompeo 'declares war on free speech' – Assange
In March, Swedish prosecutors explained their sluggishness by saying a hold-up in the translation of key documents was retarding the case.
They said the decision on whether to continue investigating Assange will be made after they receive a full translation of his November's interview which the Ecuadorians provided in Spanish.
READ MORE: US to file charges against WikiLeaks founder Julian Assange – report
The version of the interrogation in Swedish is "expected to be completed shortly," the Prosecution Authority said back then.
You can share this story on social media: