US to file charges against WikiLeaks founder Julian Assange – report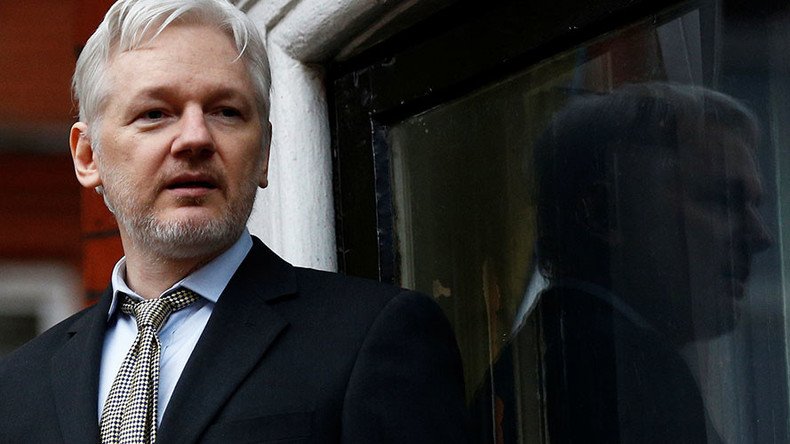 Officials reportedly claim the Department of Justice is ready to file arrest charges against WikiLeaks founder Julian Assange. Press advocates warn that if the US goes after the pro-transparency publisher, they could go after other news outlets as well.
On Thursday, CNN and the Washington Post cited unnamed US officials as having information that the US has prepared charges to make arrests related to WikiLeaks publishing tens of thousands of military documents leaked by Army whistleblower Chelsea Manning.
CNN specifically reported WikiLeaks founder Julian Assange, who has been living in a small room in the Ecuadorian embassy in London since 2012, was the subject of forthcoming arrest charges.
The Post reported multiple members of the WikiLeaks group were being targeted as prosecutors draft a memo laying out the charges. Possible charges include "conspiracy, theft of government property or violating the Espionage Act." However, officials told the Post that the memo is still incomplete, and would need authorization from the highest levels of the Justice Department.
In recent months, the US hoped a new government in Ecuador would expel Assange from the embassy so he could be arrested. However, Ecuadorian President-elect Lenin Moreno, the apparent victor in the country's recent election, has told Assange he can stay at the embassy under certain conditions.
Assange fears that leaving the embassy could his result in arrest by UK police and being extradited over an arrest warrant on rape allegations filed against him in Sweden.
Attorney General Jeff Sessions was asked about the priority of dealing with the "scourge" of WikiLeaks at a press briefing on Thursday. Sessions said that the Justice Department considers his arrest a "priority."
"This is a matter that's gone beyond anything I'm aware of. We have professionals that have been in the security business of the United States for many years that are shocked by the number of leaks and some of them are quite serious," Sessions said. "We've already begun to step up our efforts and whenever a case can be made, we will seek to put some people in jail."
Last week, CIA director Mike Pompeo signaled he was going after Assange in a speech he gave at the Center for Strategic and International Studies in Washington, where he said WikiLeaks had "directed Chelsea Manning in her theft of specific secret information. And it overwhelmingly focuses on the United States while seeking support from anti-democratic countries and organizations."
"It's time to call our WikiLeaks for what it really is, a non-state hostile intelligence service often abetted by state actors like Russia," Pompeo said.
Matthew Miller, a former DOJ spokesman, tweeted Thursday: "Unless they have found something new, there is no way to do this without prosecuting reporters. There's a reason we didn't go there."
Barry Pollack, an attorney for Assange, claims that the Justice Department has not informed him of any of the potential charges.
"We've had no communication with the Department of Justice and they have not indicated to me that they have brought any charges against Mr. Assange," Pollack said, according to CNN. "There's no reason why WikiLeaks should be treated differently from any other publisher."
In August last year, Pollack wrote to then-Attorney General Loretta Lynch demanding the DOJ drop its investigation and declare no pending criminal charges against Assange, according to WikiLeaks. The letter cited a January 2015 policy change within the DOJ, as well as the July 2016 public announcement by FBI Director James Comey that a criminal investigation into Hillary Clinton over the handling of classified information had concluded and no prosecution was recommended.
The new DOJ policy adopted in January 2015 barred the DOJ from seeking a grand jury indictment of a news media member, or filing information against such a person when the suspected crime was committed "in the course of, or arising out of, newsgathering activities" unless notice had been first provided to the Director of the Office of Public Affairs along with "the express authorization of the Attorney General."
Pollack claimed in his letter that WikiLeaks published the leaks from 2010, because it believed they had news value. Proof of the claim, he said, was apparent in third-party media coverage of the revelations. Pollack denied any unlawful intent such as aiding enemies of the US.
In a recent Op-Ed published by the Washington Post, Assange said that the motive of WikiLeaks is "identical to that claimed by the New York Times and The Post — to publish newsworthy content."
"Consistent with the U.S. Constitution, we publish material that we can confirm to be true irrespective of whether sources came by that truth legally or have the right to release it to the media. And we strive to mitigate legitimate concerns, for example by using redaction to protect the identities of at-risk intelligence agents," Assange wrote.
Several First Amendment rights groups and news outlets have denounced the potential charges, saying that if they can go after WikiLeaks, they could go after journalists from other news organizations.
On Thursday, the WikiLeaks Twitter account tweeted that top French presidential candidates "all vowed to give Assange and/or Snowden citizenship or asylum."
WikiLeaks also posted a link where donations can be made to the "Julian Assange Defense Fund," a fund that was set up to cover the legal fees for Assange and other WikiLeaks staff.
You can share this story on social media: