JetBlue kicks family off Las Vegas flight 'because of birthday cake' (VIDEO)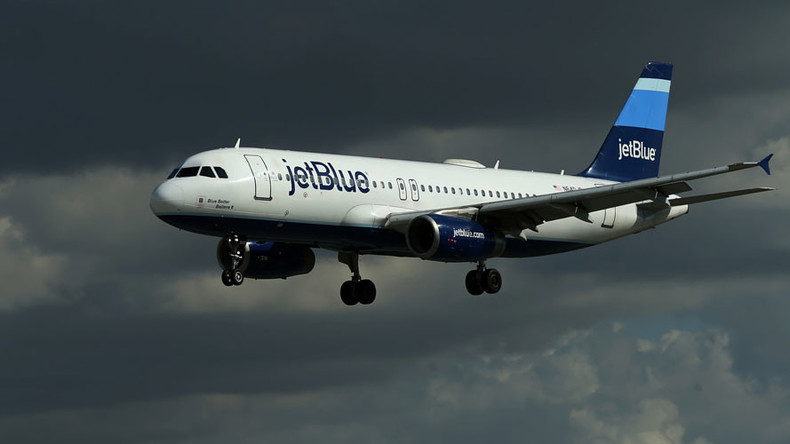 JetBlue Airways caused birthday tears for a family that say they were kicked off a Las Vegas bound flight because of a staff dispute over the storage of their celebratory cake.
Minta and Cameron Burke from New Jersey were traveling from JFK Airport in New York to Las Vegas, Nevada with their young children to celebrate Minta's 40th birthday.
"We were just so happy. Couldn't wait to get to Las Vegas, and all of a sudden this occurred, and my two children are screaming, crying. They're confused not knowing what's going on – they were traumatized," Minta told ABC.
The trouble arose when the family brought a birthday cake as part of their carry-on luggage and stowed it in an overhead compartment. A flight attendant asked them to move the cake, first to another overhead bin, and then under a seat.
"She then asked me to move it to underneath the seat in front of me, I did," Cameron explained to the New York Daily News.
However, things started to get a little strange when a second flight attendant criticized the first and accused the Burke family of being non-compliant.
READ MORE: United Airlines denies it froze a giant rabbit to death
The situation then escalated when yet another airline employee approached the family and asked them to leave the flight and the Burke's young children, aged seven and nine, began to cry.
Port Authority officers were then called to the plane. A video recorded by Cameron Burke shows the officer clearly saying: "I don't see any wrong doing... No one's in any trouble... no one did anything wrong."
However, ominously, the officer also says "unfortunately they're [the airline] going to have to rebook everyone."
JetBlue then asked everyone on the flight to leave the plane in order to get the family off. The family's tickets and reward points were refunded.
READ MORE: Muslim men marched off plane after passengers accuse them of 'skipping security'
The airline insists that the family was at fault, telling RT.com "the video circulating does not depict the entire incident."
In a statement, JetBlue said the Burkes placed the birthday cake in a compartment designated for emergency and safety equipment and then refused to move it despite being asked "multiple times."
"The customers became agitated, cursed and yelled at the crew, and made false accusations about a crewmember's fitness to fly," JetBLue's spokesperson wrote. The company says that after the customers refused to speak with a team leader about the situation, Port Authority Police were called and the entire aircraft deplaned.
"The Captain determined the customers' behavior demonstrated a risk for additional escalation in air and would not be allowed to fly," the statement added.
The family flew to Las Vegas the next day on a United Airlines Flight. Cameron Burke said he intends to file a lawsuit against JetBlue and is calling for the flight attendant involved to be fired.
You can share this story on social media: