'A beautiful end': Hospital grants dying patient's wish to drink wine with family (PHOTO)
Published time: 11 Apr, 2017 17:25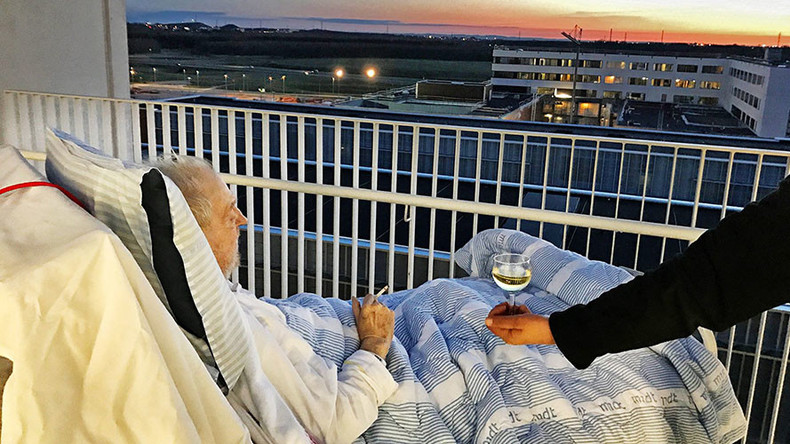 A man's dying wish for one last cigarette and a glass of wine has been granted by a team of nurses in Denmark, who are garnering high praise online for their compassion in defiance of hospital regulations.
Carsten Flemming Hansen was admitted to Aarhus Universitetshospital, Aarhus, last week with a ruptured aortic aneurysm.
With no chance of surviving the internal bleeding in his abdomen, Hansen was allowed to spend his last moments in style – sitting on a hospital balcony, watching the sun set with a cigarette and glass of white wine.
READ MORE: Santa grants last wish to terminally ill child who dies in his arms
According to Aarhus Universitethospital, Hansen's "greatest wish" was to enjoy an LA Green cigarette and a drop of wine with his family before he passed away.
"There's no smoking in the hospital but the nurses on the vascular surgery corridor and the family agreed that [it] was what Carsten Hansen wanted more than treatment [and] prevention," a hospital statement said.
"Therefore Carsten Hansen was brought onto a balcony with his family to enjoy the cigarette, a cool glass and a beautiful sunset," it added.
A picture posted to the hospital's Facebook shows a frail Hansen being served wine in his bed while looking out onto a picturesque red sunset.
The medical staff's compassion provoked an outpouring of praise online, including a heartbreaking message from Hansen's daughter.
"This is my dear father who is in the beautiful picture," Mette Demuth said on Facebook. "Many many thanks for all the nice comments from you – it warms more than you know."
"My condolences to the family but what a beautiful end when it was time. Rest in peace Carsten," one person said on Facebook.
A second commenter said: "When you can't save a patient, you gotta do the next best thing. Creating a dignified end for patient and their families."
"A beautiful ending to life. Huge props to the staff who put the patient first," another added.
Meanwhile one person wished Hansen a "good flight" after going out in "bloody good style".