All 'immigrant' artwork to be removed by Boston museum
Published time: 17 Feb, 2017 12:36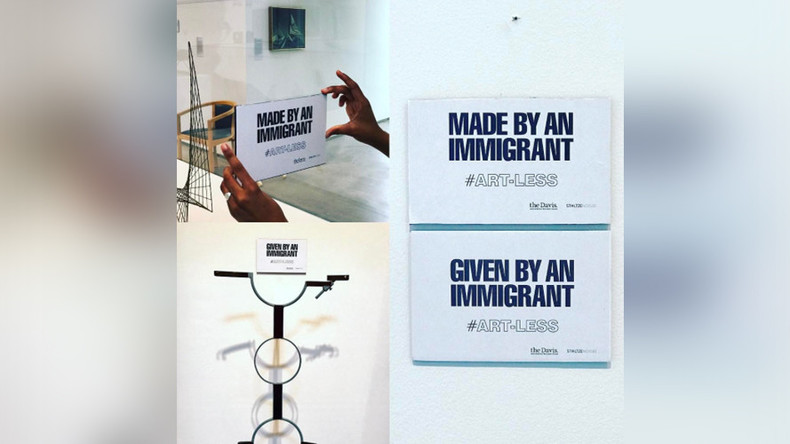 A museum in the small town of Wellesley, Greater Boston, will remove all works of art either created or donated by immigrants in protest against the White House's controversial travel ban.
Paintings, sculptures and ceremonial masks are among the 120 items set to be included in the symbolic gesture of defiance at the Davis Museum. Roughly 20 percent of the works on display created by artists or donated by collectors who immigrated to the US.
READ MORE: Trump drops legal challenge to travel ban, will issue new order
The works of art will be either removed or covered in black cloth with the words "Created by an immigrant" written on it from Thursday through to Presidents' Day weekend.
Among the pieces of art to be removed includes a painting of US first president, George Washington, depicted by Swedish-born artist, Adolf Ulrik Wertmüller.
"For the days leading up to and including the Presidents' Day holiday weekend we have removed or cloaked these works to demonstrate symbolically what the Davis Museum would look like without their contributions to our collections and to Wellesley College, and to thereby honor their many invaluable gifts," the museum stated.
"Art-Less demonstrates in stark and indisputable terms the impact of immigration on our collections,"said Lisa Fischman, a director at the Davis.
This protest follows the 'Day Without Immigrants' – which resulted in the closure of numerous businesses as many went on strike to show solidarity with immigrants targeted by the surge of detainments by Immigration and Customs Enforcement.
READ MORE: 'Day Without Immigrants' strike and marches sweep US