'Day Without Immigrants' strike and marches sweep US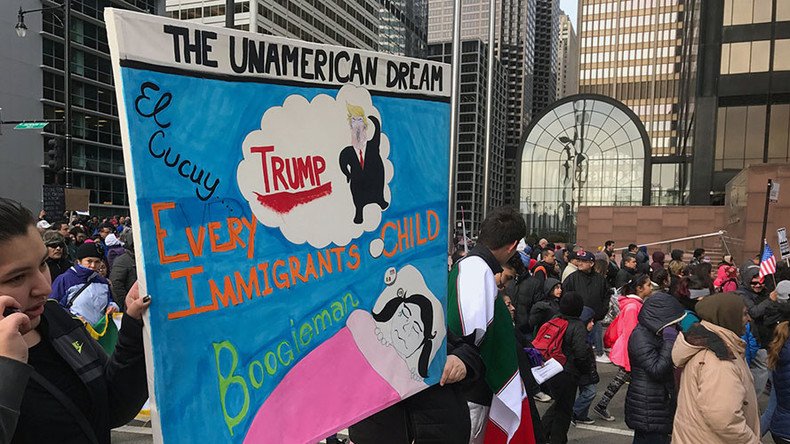 Businesses across the US closed after thousands of immigrants stayed home to show their impact on the country in light of recent actions on legal and illegal immigrants. Students also boycotted, leaving some classrooms nearly empty.
The large nationwide protest Thursday resulted in numerous business closures and marches as many went on strike to show solidarity with immigrants targeted by the surge of detainments by Immigrants and Customs Enforcement.
Strikes in Washington, DC left numerous restaurants closed, while protests in Detroit shut down the southwestern part of the city.
Immigrants refused to spend money to make their economic force felt.
"If you want America to be 'great' and you want America to work, you need workers. And most of the people who are working in the cities are immigrants," Chante Brown, 30, told the Detroit Metro Times.
In Charlotte, 8,000 people marched through the uptown area, shutting it down, according to WSOC.
"All the immigrants, refugees, everyone around. Not just Latinos, we're representing Muslims. We got to stop the hate and there's a lot of misconceptions about whether we pay taxes. We do pay taxes," protester Raquel Garcia told WSOC.
The protests remained largely peaceful in Charlotte, except for a man who was punched through his truck window after taunting protesters. The victim fled the scene, and no arrests were made, WSOC reported.
In Washington, DC, the social media driven strike shuttered doors at many upscale restaurants. Roughly 48 percent of the staff of DC area restaurants are foreign born, the Washington Post reported, and there are approximately 1.3 million illegal immigrants working in the industry across the country, according to the Associated Press.
Hundreds of students were absent on Thursday in Los Angeles where at least one school reported that out of their 1,800 students, 200 to 300 hundred stayed home in protest, the Los Angeles Times reported.
The numbers of exactly how many people participated in Thursday's demonstrations is unknown and will likely be difficult to tell. But after recent raids and detentions of immigrants, there are already talks for further boycotts and protests.
You can share this story on social media: