Customers livid over black model in sportswear ad can apply to 'I'm racist' email address for refund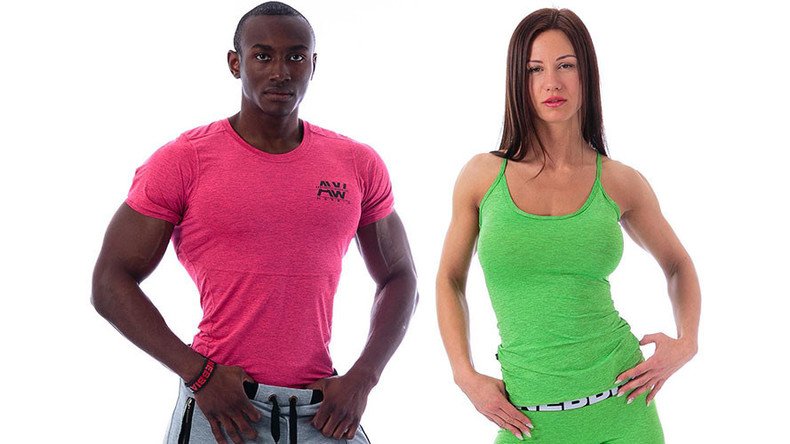 A Slovakian sportswear firm called Nebbia has promised to refund customers offended by its advert featuring a black Norwegian bodybuilder – on condition that they send their requests to an email address that reads "I am racist" in Slovak.
In a series of blog posts, Nebbia CEO Martin Pecko threw himself into the uproar sparked by photographs posted on Nebbia Žilina's Facebook page on February 3 that featured a black male athlete alongside a white female model. Žilina is a city of about 85,000 people in northwestern Slovakia.
Comments on the photo quickly turned into a heated racial debate on immigration and multiculturalism, with some of the most disturbing comments describing the black athlete as "a monkey in clothes" and "a murderer." One commenter promised to boycott the company, while another warned that the ad campaign would only "discourage" potential buyers, as majority-white Slovaks wouldn't relate to it.
Responding to the barrage of online abuse directed at the black athlete, Pecko wrote that the man taking all the heat was Norwegian bodybuilder Dennis Johansen, explaining that he had been the brand's ambassador for over a year and was picked for the promo shoot because of his "fantastic figure and sporting achievements."
"The person in our picture is our good friend Dennis. He's European, just like you. [He] has a university degree, a figure that you'll never have, and a beautiful wife at home (who is white and blond)," Pecko wrote in an entry from February 7 on the company's blog.
The CEO went on to denounce racial prejudice in strong terms, defending his company's position as a global brand represented in over 40 countries. He also said the company would be "happy" if one "racist" commenter stopped wearing Nebbia's clothing as promised, "so we won't have to feel ashamed because of him."
As the first blog post only seemed to add fuel to the fire, Pecko then vowed to make good on his promise to refund disgruntled customers in full. However, the offer came with a catch: to receive compensation, outraged buyers would have to send their requests to somrasista@nebbia.sk – a newly-set up email address that means "I am a racist" in Slovak.
While Pecko acknowledged that the decision would likely result in economic losses, he expressed no regrets, writing "maybe we were crazy, but we stand by our word!"
As the controversy began making headlines in the local media, Pecko tried to avoid getting caught up in a debate on immigration, saying that his post should not be read as a political statement.
Intercultural tensions are running high in Slovakia, which has been traversed by thousands of migrants from North Africa and the Middle East taking the so-called Balkan route to Western Europe in hopes of being granted asylum. Slovakia has been a strong critic of an EU Commission scheme to redistribute the refugees across Europe.
"As long as a coherent European strategy is lacking, it is legitimate for the countries along the Balkan route to protect their borders. We will help them with that," Slovakian Foreign Minister Miroslav Lajcak told Der Spiegel last February.
After the European Union passed a plan to impose redistribution quotas on member states in September of 2015, Slovakian Prime Minister Robert Fico threatened to take legal action, calling the mandate "nonsense" and "a dictate of the majority."
In May of last year, Fico courted controversy by declaring that Islam "has no place in Slovakia," arguing that Muslim migrants were "changing the character of the country" and eroding its Christian foundations.
The prime minister had previously vowed that Slovakia would not take in "a single Muslim" under the EU imposed quota while he is in power, citing a "serious security risk" posed by Muslim communities.
Reinforcing this rhetoric, the Slovakian Parliament passed a bill in November that raises the bar for a faith to qualify as an official state religion from 20,000 to 50,000 followers. The legislation, which was sponsored by the Slovak National Party (SNS), targeted Islam in particular. Although the number of Muslims in Slovakia is estimated at only between 2,000 and 5,000 people, SNS leader Andrej Danko warned that "Islamization starts with a kebab and it's already under way in Bratislava."
According to Zuzana Vatralova, the head of the Bratislava office of the International Organization for Migration (IOM), 1.7 percent of Slovakia's total population is currently made up of migrants and foreigners with residence permits, amounting to some 93,300 people.
READ MORE: Slovakia adopts law to effectively block Islam from becoming official state religion
"It is the sixth lowest number of foreigners in the EU," she said in February, as cited by the Slovak Spectator, adding that Slovakia had granted asylum to only 170 seekers last year.
Vatralova believes that the fears of ordinary Slovakians are irrational and unfounded.
"I want to stress that if Slovaks have the feeling that there are too many asylum seekers and there should be fewer of them, it is not true, and we are fighting an invisible enemy," she said.
READ MORE: EU refugee redistribution plan is 'dead' – Poland's EU minister
You can share this story on social media: