'Slovakia to Slovaks': Thousands join anti-Islamization protest in Bratislava, dozens arrested (PHOTOS, VIDEO)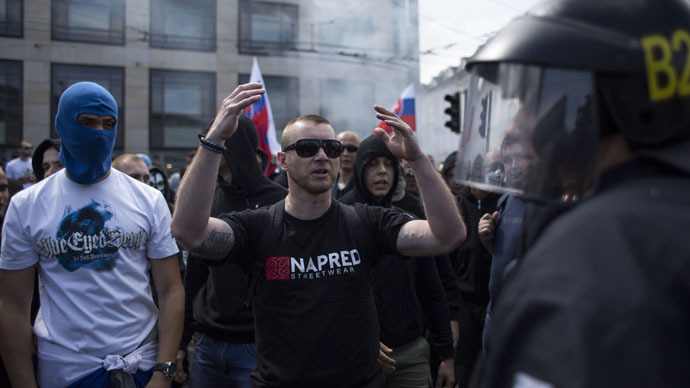 At least 140 people have been arrested in Slovakia's capital, where thousands gathered for an anti-immigration and anti-Islamization rally, according to local media reports. The march turned violent as protesters scuffled with police.
The march was organized by the Alternativna cesta group via Facebook. It was called to protest against Brussels' proposal to tackle the influx of migrants to the EU by imposing compulsory national quotas that require EU countries to accept a specific number of new migrants, most of whom arrived in Italy or Greece.
Slovak media say the march drew thousands of protesters, while the Facebook page for the event claims that about 14,000 people took part in the rally.
The activists, who said they are against the 'Islamization of Europe' and migrants from the Middle East and Africa, were chanting slogans like "Slovakia to Slovaks," "Stop Islamization in Europe; Together Against dictate of Brussels; Europe for Europeans!"
Some of the banners read "Slovakia is not Africa."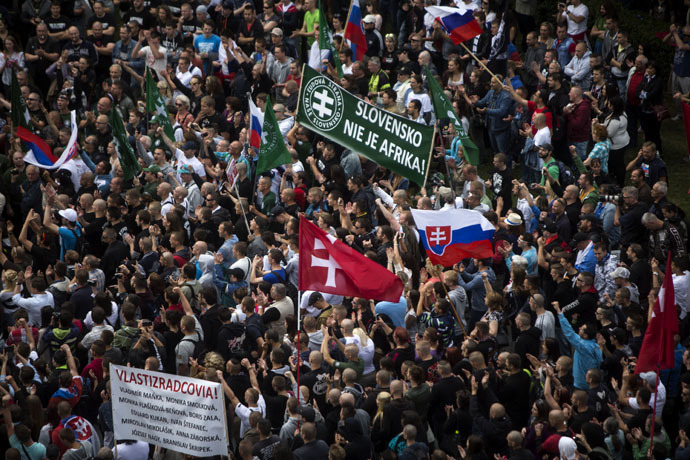 "We had a lot of bad experience with Muslims… This [rally] is probably the last chance to stop Muslim invasion," one of the protesters told Ruptly.
Aktualne v BratislavePosted by Alternativna cesta on samedi 20 juin 2015
At least 1,500 police officers maintained order during Saturday's march. However, the event did turn violent as protesters damaged police cars and attacked spectators at a cycling race, Reuters reported.
Some participants threw stones and smoke bombs at police, Slovak Topsy website reported, adding that at least five people were injured in the clashes. Police, in turn, used tear gas against two of the protestors.
Vážení priatelia nezabudnite, už o niekoľko hodín sa v Bratislave začne masový protest proti diktátu Bruselu a imigrač...Posted by Alternativna cesta on samedi 20 juin 2015
The participants of the anti-Islamization rally reportedly clashed with members of a counter-protest who were marching with placards showing a crossed out swastika, according to Ruptly.
Far-right protest against the 'Islamification of Europe' in Bratislava Watch here: http://t.co/RdWIwQTR02pic.twitter.com/ksq9H845lR

— Ruptly (@Ruptly) June 20, 2015
Dozens of people have been arrested. According to Reuters, police detained at least 60 people, while local Topsy cited a law enforcement spokesperson who said that about 140 protesters had been arrested.
The European Commission (EC) is planning to resettle about 40,000 people from Italy (24,000) and Greece (16,000) in 23 EU member states within the next two years.
#Slovakia: Clashes break-out between anti-#Islam#protesters & counter demonstrators in #Bratislavapic.twitter.com/30gxmd9FXv

— Amichai Stein (@AmichaiStein1) June 20, 2015
In May, the EC published a proposal detailing how it plans to achieve this. According to the document, Slovakia will have to host 785 new migrants, mainly of Syrian or Eritrean origin. Of this total, 471 will be resettled from Italy and 314 from Greece.
However, the decision of EC was view skeptically by Slovak Prime Minister Robert Fico, who said that it is "a very risky endeavor."
"We won't shirk responsibility or European solidarity and we won't call for the barricades," he said. "We'll be filing objections and seeking the most agreeable solution for all parties involved."
today's protest against immigration quotas in Bratislava organised by radicals reminded me a dark history #fucktardspic.twitter.com/MrKJfi7TW9

— Peter Lutisan (@PeterLuto) June 20, 2015