Drop mandatory refugee quotas or face lawsuit and 'big battle,' Hungarian PM tells Brussels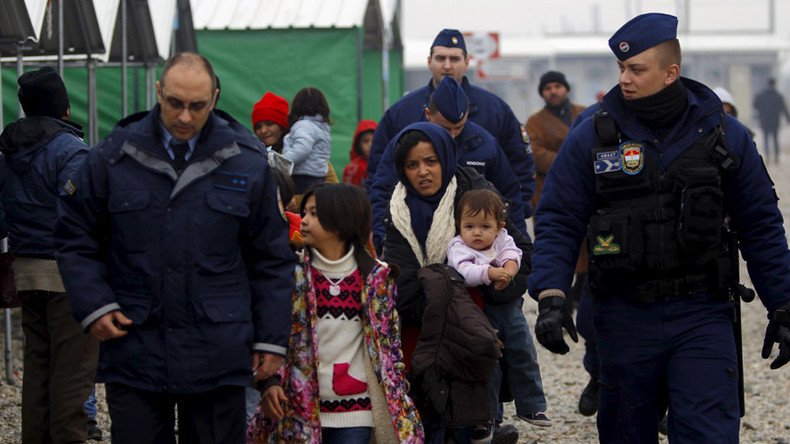 Hungary's Prime Minister said his country is ready to sue the European Commission over mandatory refugee resettlement quotas. If Brussels does not take the issue off the table, Budapest will resist with "a big battle" and "a serious legal debate."
"There will be a serious legal debate on whether a foreign population can be imposed on the people of an EU member state against its will," Hungarian Prime Minister Victor Orban told state radio on Friday, according to Reuters.
Orban, who consistently opposes Brussels' stance towards resettling refugees crossing European borders, promised that "this will be a big battle, and for this we need the constitution [amended]," if Hungary's voice is not heard by the EU.
Earlier this month, his cabinet called a nationwide referendum, asking citizens: "Do you want the European Union to be able to mandate the obligatory resettlement of non-Hungarian citizens into Hungary even without the approval of the National Assembly?"
More than 98 percent voted against the idea, though the turnout was too low for the vote to become legally binding. Despite being invalid in legal terms, the referendum gave Orban justification to push for constitutional amendments that would restrict Brussels' authority over Hungary.
"A valid referendum is always better than an invalid one, but the legal consequences will be the same," he said in early October, as quoted by the AFP.
"There is only one condition for this: that there are more 'No' votes than 'Yes' votes."
Last year, Hungary's firebrand premier responded to the influx of refugees – travelling along the so-called 'Balkan route' – by erecting barbed-wire fences and deploying thousands of troops and police officers to secure the border.
The hardline measure has been met with stark criticism from other EU countries, with some leaders resorting to rather straightforward rhetoric.
"We give €20 billion ($22 billion) to Europe and the EU gives us back 12, but if Hungary or Slovakia preach to us about migrants and don't give us a hand and then want our money, in 2017, when budget discussions start, the Italian government will say 'no way,'" Italian PM Matteo Renzi told RAI 1 TV on Tuesday.
He added that Italy was ready to veto the 2017 EU budget over the issue.
"If you build a wall, forget about Italian money," he said, adding that "if refugees don't go there, the money won't go there either."
Notably, neighboring Austria has threatened Hungary with "legal consequences" if it refuses to take back refugees under the Dublin agreement, the key legal document that regulates the handling of asylum-seekers.
"In that case, the [Austrian] Republic must sue. The Republic must see that the European Union acts according to the law, full stop," Austrian Interior Minister Wolfgang Sobotka told ORF radio in September.
The EU refugee quota proposal, advocated by Germany and agreed on by most EU countries last year, seeks to stem the flow of migrants into Italy and Greece, where the majority of them enter the EU.
Implementing the controversial proposal has, however, been a struggle. Countries in Eastern and Central Europe vehemently opposed to the plan aimed at relocating 160,000 people, with many of them fleeing war in Syria. Hungary has not yet accepted a single one of the 1,294 asylum-seekers allocated to it under the scheme.
You can share this story on social media: