German ad from 2011 encouraging hijab 'tolerance' makes the rounds again (VIDEO)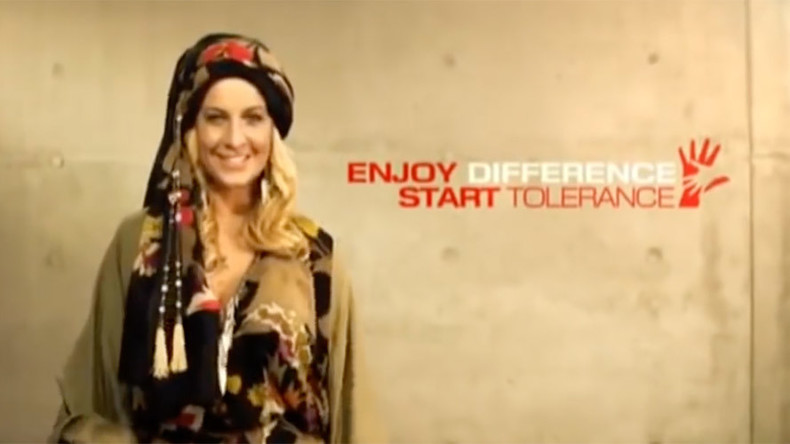 A German ad campaign showing a blonde-haired woman wearing a headscarf has re-emerged online, following numerous cases of alleged discrimination against Muslim women in Germany. The video encourages citizens to "enjoy difference" and "start tolerance."
The 18-second ad, funded by the United Nations Educational, Scientific, and Cultural Organization (UNESCO) and German taxpayers, was originally published in 2011, but has come to the forefront once again, sparking anger online.
The video begins with the text "Turkish women wear the hijab."
A blonde-haired woman then turns around to show her face, saying "Me too! It's beautiful!"
"Enjoy difference, start tolerance," the lady says to the camera.
Despite not being new, the ad has been met with disapproval on Twitter, with one user calling it "anti-German propaganda."
Another referred to the ad as the "mass Islamization of Europe's women."

The resurgence follows numerous alleged cases of discrimination against Muslim women who wear headscarves and face veils in public.
Less than two months ago, the mayor of a German town fired a Muslim intern on her first day of work, for refusing to remove her headscarf.
In July, a Muslim law trainee in Germany won the right to wear a headscarf to work when a court ruled there was no legal basis for the state of Bavaria to prevent her from doing so.
Last week, a restaurant owner in northern Germany expelled a Muslim woman who refused to remove her face veil, triggering a social media storm.
Tensions between German citizens and Muslim immigrants and asylum seekers have been ongoing, particularly after Berlin took in over one million refugees last year, most of whom hailed from Syria.
A poll last month found that 30 percent of Germans want the burqa and niqab banned in public places, while 51 percent want them entirely prohibited.
Chancellor Angela Merkel's party has also pushed for a ban on burqas in public places, stating that full-face veils do not help Muslims integrate into Germany.
You can share this story on social media: