'Infinite' house: 3D printer to construct home with no beginning or end (VIDEO)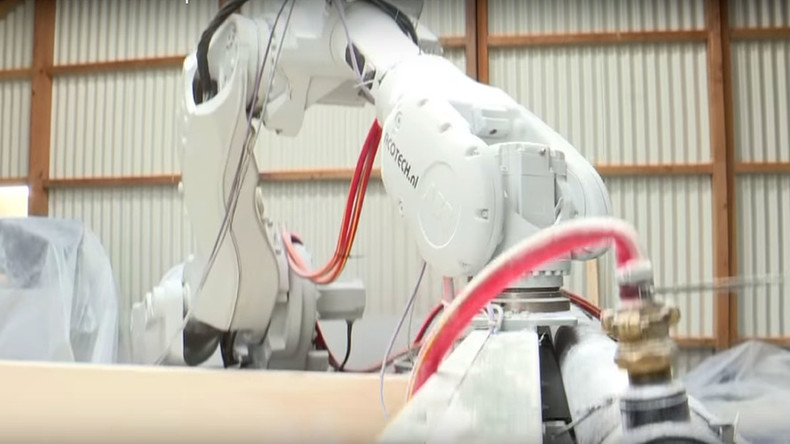 A Dutch architect is pushing the 3D printing revolution to a new and mind-bending level by using robotics to build a one-sided "endless" house based on the mobius strip.
The two-meter long printer will be used to construct a large building in the shape of a loop - with no beginning or end.
"The ambition was to make a building that has an infinite structure, like planet Earth," architect Janjaap Ruijssenaars told AFP. "Planet Earth doesn't have a beginning or an ending and we were looking for a shape that has the same quality."
The "Landscape House" modeled on a mobius strip (a surface with only one side) will be printed with around 1,100 sq meters (12,000 square feet) of floor space by the impressive 'D-Shape printer'.
READ MORE: Airbus showcases 3D-printed drone at Aerospace expo in Berlin
The process works by putting liquid onto sand which then solidifies. It can print up to six-meter-by-six-meter sq sections with the help of a computer to build up fine layers 5-10mm thick, according to Phys.org.
The 3D printer is also an environmentally friendly option, according to Rutgerr Sypkens from partner company Bam Building. "We need less materials to make shapes to pour the concrete in because it does it directly," he said.
READ MORE: Giant 3D printer shaped Dubai's 'Office of the Future' in less than three weeks (PHOTOS)
The printer, designed by Italian Enrico Dini, is being tested in a warehouse in Amsterdam ahead of construction which is due to begin in the next couple of years.
A similarly-innovative design revealed by the Chicago office of architects WATG was awarded first prize in the Freeform Home Design Challenge - a competition to design the world's first freeform 3D printed house.
The firm was awarded US$8,000 towards construction of its 'Curve Appeal' design and 3D printing is expected to begin next year.
While innovations continue to develop in the 3D housing market, a Chinese company is already mass producing 3D houses, creating up to 10 houses a day for under $5,000 each.