Airbus showcases 3D-printed drone at Aerospace expo in Berlin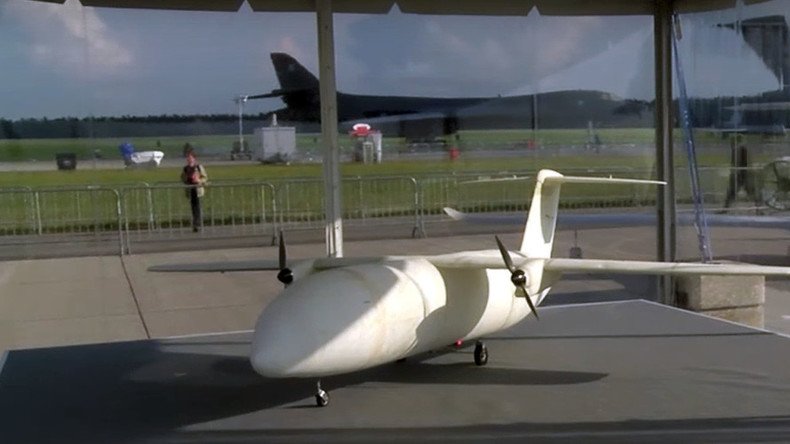 On Wednesday, Airbus stunned the 2016 International Aerospace Exhibition and Air Show in Berlin with its newest fully 3D-printed drone – "Thor." The 4-meter-long aircraft has a 4 meter wingspan, weighs only 25 kilograms, and can be built in 4 weeks.
READ MORE: DARPA moving forward with drone 'space plane'
The unmanned aerial vehicle (UAV) called "Thor," which stands for "Test of High-tech Objectives in Reality," is named after the Norse god of storm and thunder. It consists of 50 easily replaceable 3D-printed parts and two electronic engines and remote controls. The design makes it an ideal device for aerial investigations "bearing a high technical risk," said Detlef Konigorski, head of Airbus' Thor program, when unveiling the vehicle at the expo.
"We barely have any experience in printing such devices as everything has happened on a component level. Here you can see a complete system which is not only being printed with working mechanical properties, but which actually can fly," he added, as cited by Ruptly, RT's video news agency.
Among Thor's main advantages is its low price tag and high reusability. Unlike conventional UAVs, which can cost hundreds of thousands and even millions of dollars, the total cost of the printed parts that make up Airbus' newest creation is around €25,000.
Here we can say: '[If] it crashed, we can brush it off the runway. Within four weeks we will print a new one.' And then it starts all over again," Konigorski said.
READ MORE: Russia developing kamikaze drone that hits target & detonates - report
The aircraft underwent its first tests in November of 2015, and 18 more test missions are scheduled for 2016.
Airbus' love for 3D printing technology or Additive Layer Manufacturing (ALM) is well-known. In June of 2014, the company devised a three dimensional cabin bracket made of titanium powder for its A350 aircraft. In February of that year, the company printed a spare part for an aircraft being flown by Air Transnat.
READ MORE: VIDEO: Half-Life 2 Combine drone becomes reality in Russia
You can share this story on social media: