DARPA moving forward with drone 'space plane'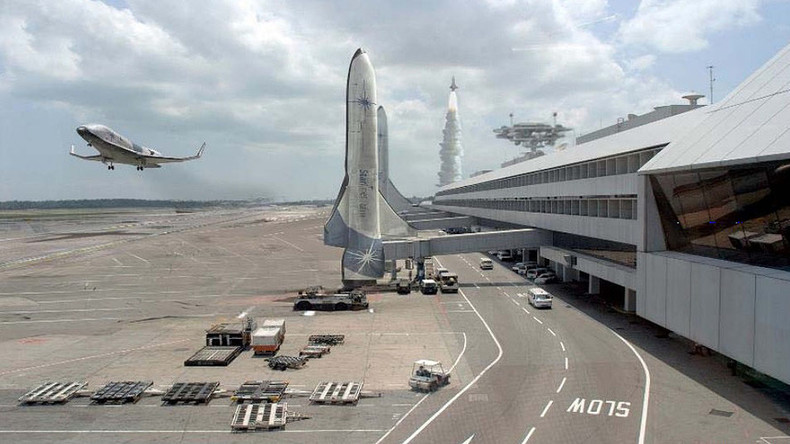 The US military's research arm says its robotic "space plane" program has received funding for the next phase of development. Aiming to provide a quicker and cheaper way to launch satellites, the still-conceptual vehicle may fly as early as 2019.
The Experimental Spaceplane (XS-1) program is intended to prove that "routine and responsive access to space can be achieved at costs an order of magnitude lower than with today's systems," according to Jess Sponable, program manager at the Defense Advanced Research Projects Agency (DARPA).
After reviewing studies submitted by several aerospace conglomerates, DARPA has now issued a call for design proposals. The deadline for submissions is July 22.
During Phase 1, three aerospace groups received funding from DARPA to study possible XS-1 designs: Northrop Grumman partnered with Virgin Galactic, Boeing partnered with Blue Origin, and Masten Space Systems partnered with XCOR Aerospace.
Phase 2 will be open to all companies, and will seek to move beyond studies and into test flights. A single contractor will be selected by 2017, and the first flights may take place in 2019 or 2020, according to Space.com.
"I can tell you officially now that we have been funded by the [Obama] Administration for the next phase of XS-1," Sponable told the audience at the Space Access '16 Conference in Phoenix, Arizona in April. "What I can tell you right now is that we have $146 million."
The project was launched in 2014, with the goal of developing a reusable space-launch system that could fly 10 times in 10 days at a cost of no more than $5 million per flight, and could be operated like an aircraft. The XS-1 should be able to carry payloads between 3,000 and 5,000 lbs. (1,360 to 2,267 kg) and fly 10 times faster than the speed of sound.
The initial goal for the prototype is to be capable of placing a 900-lb. (408 kg) payload into low Earth orbit, with later versions upgradeable to a larger payload using an expendable upper-stage booster, the agency said.
The program is structured to "directly transition any successful technology to the industrial and commercial launch sectors," with the ultimate goal of enabling the government to contract launch services at "dramatically lower costs and more rapid time frames than are possible today," according to DARPA.
"We've been pursuing this low-cost, aircraftlike access to space literally since the 1960s, and seriously since the 1980s. And we've had failure after failure after failure," Sponable admitted. However, the agency believes the technologies required by the project are "much more mature" today, giving XS-1 a greater chance to succeed.
The US military already has a pair of top-secret space planes: Boeing-made X-37Bs have flown at least four classified missions since 2010. The X-37 is less than 30 feet (9 meters) long and has a payload bay the size of a pickup-truck bed. It cannot achieve orbit on its own, however, relying instead on Atlas V boosters powered by the Russian RD-180 rocket engines.
Created in 1958, the research agency has had a hand in developing the internet, global-positioning satellites, online mapping, computer operating systems, stealth airplanes and artificial intelligence. In addition to the space plane, DARPA is currently researching self-driving cars, bionic limbs and humanoid robots.