​Mystery revealed: DoD shares mission plan for top-secret X-37B spacecraft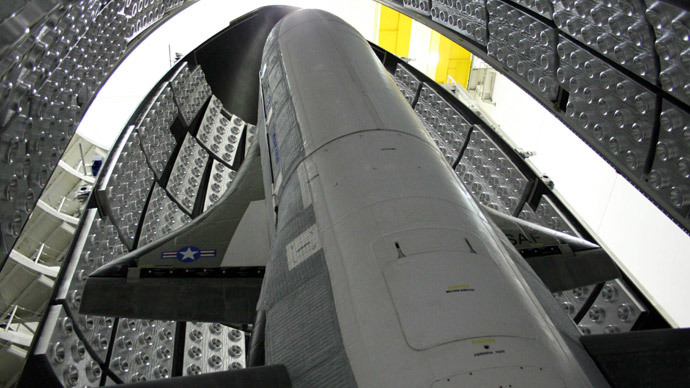 The US Air Force's top-secret X-37B spacecraft has been a mystery for decades, prompting speculation and numerous conspiracy theories. Now, for the first time, the Department of Defense (DoD) has revealed details about the spacecraft's latest mission.
With theories ranging from the X-37B being a space bomber to a surveillance tool used to spy on the Chinese space station, the spacecraft's upcoming task of testing a new form of engine may come as an anticlimax to many.
The X-37B will be taking part in a 'Hall thruster electric propulsion test' on May 20, launching on United Launch Alliance's Atlas 5 rocket from Cape Canaveral.
Hall thrusters use electricity to ionize and propel xenon gas, setting them apart from conventional chemical engines. This results in a 'whisper quiet' thruster which uses only a fraction of the fuel and weight that current methods do.
READ MORE: Air Force's top-secret X-37B spacecraft lands after nearly two years in orbit
According to Spaceflight Now, the US Air Force (USAF) will use the Hall thruster for its Advanced Extremely High Frequency (AEHF) satellites. It's a large task, as the satellites – which are designed to be able to survive a nuclear blast – are the USAF's back-up plan should ground communications fail.
The Hall thruster could also be beneficial to the military's pockets, as the fuel used in current propulsion methods is both heavy and expensive. However, the economic benefit is accompanied with a need for patience, as current propulsion methods move satellites much quicker.
"A more efficient on-orbit thruster capability is huge. Less fuel burn lowers the cost to get up there, plus it enhances spacecraft operational flexibility, survivability and longevity," said Major General Tom Masiello, an Air Force Research Laboratory (AFRL) commander, as quoted by Spaceflight Now.
READ MORE: Pentagon's mystery 'space plane' to touch down after record time in orbit
The test plans are being developed by the AFRL and administered by the Rapid Capabilities Office, which runs the X-37B program.
The X-37B, built by Boeing, is about 29 feet long by 9.5 feet tall (8.8 by 2.9 meters), with a wingspan of 15 feet (4.6 m) and a payload bay the size of a pickup-truck bed.
The US Air Force has two X-37B spacecraft in its fleet and has been sending them into space on secret missions since 2010.