LA woman claims 2 police officers beat her during routine traffic stop
Published time: 30 Aug, 2012 14:27
Edited time: 30 Aug, 2012 18:27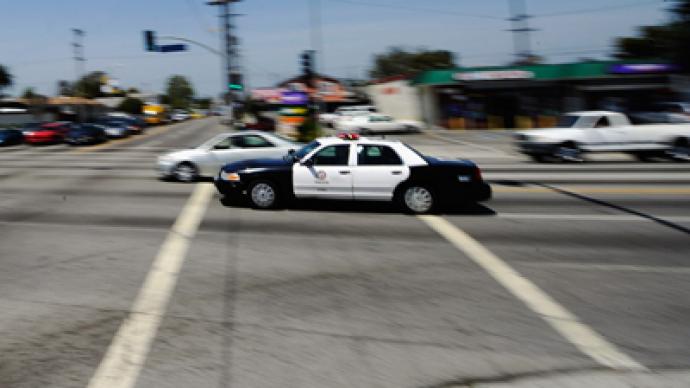 A commanding officer in the LAPD has been removed from active duty for excessive use of force against a woman during a routine traffic stop, prompting an internal investigation into the incident.
­34-year-old Michelle Jordan, a registered nurse, was arrested in the Tujunga area on August 21 after being pulled over for talking on a cellphone while driving.
The woman got out of the car and swore at the officers, who then forced Jordan to the ground and handcuffed her. After she got up and was being led to the cop car, one of the policemen tackled her to the ground again. The incident was captured by fast-food restaurant CCTV cameras.
Jordan's attorney, Sy Nazif, told a local TV station ABC 7 that, "She made some unwise moves, but certainly nothing that warranted a physical assault from the LAPD. … If anyone on the street attacked an innocent woman, they would be in jail. We expect the LAPD officers to be held to the same standard."
Nazif described his client as "a defenseless woman in a sundress," and asked why the officers would use excessive force against her.
Screenshot from youtube by user SuperHood32
Two officers involved in the incident have been removed from active duty. One has served in the police force for 22 years, while the other had only been active for 10 months, and was still in his probationary period.
Los Angeles Police Chief Charlie Beck said at a news conference that "every Los Angeles police officer, regardless of rank, will be held accountable for their actions."
This is the third accusation of excessive force leveled against LAPD officers in the past month. On Monday, Deutsche Bank executive Brian Mulligan filed a $50 million lawsuit against the LAPD, claiming two officers beat him in May.
The latest incident comes almost two weeks after Ron Weekley Jr., a 20-year-old student, accused the LAPD of using excessive force while arresting him.
Screenshot from youtube by user SuperHood32