US ignores UN's demands to protect Occupy protesters
Published time: 19 Jun, 2012 21:35
Edited time: 20 Jun, 2012 01:36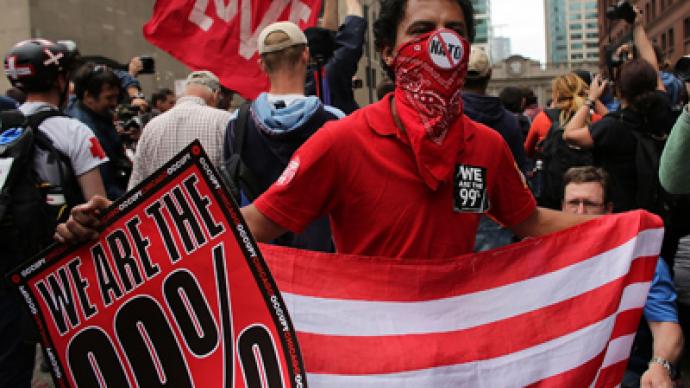 The mishandling of peaceful protesters with the Occupy Wall Street movement will be discussed this week at the annual UN Human Rights Council meeting when two rapporteurs for the United Nations will make reports.
Frank La Rue, the UN's special rapporteur for the protection of free expression, and Maina Kiai, the organization's special rapporteur for freedom of peaceful assembly, will present their reports at this week's meeting, the twentieth edition of the annual conference. Particularly in focus, though, will be how the United States government has failed to act on requests made by the two experts during the last year to address growing concerns over how law enforcement has acted towards the Occupy movement.
In one letter sent from the envoys to US Secretary of State Hillary Clinton, the rapporteurs urge the Obama administration to "explain the behavior of police departments that violently disbanded some Occupy protests last fall." Elsewhere they say that they've been concerned that excessive force waged on protesters "could have been related to [the protesters'] dissenting views, criticisms of economic policies, and their legitimate work in the defense of human rights and fundamental freedoms."
Despite sending that letter to Secretary Clinton more than six months ago, neither rapporteurs has not been offered a response yet, reports Huffington Post. A spokesperson for the State Department tells HuffPo that "the US will be replying," but declined offering any other details.
"We do not comment on the substance of diplomatic correspondence," the spokesperson responded, differing questions elsewhere.
"The Department of Justice's Civil Rights Division is the lead agency for violations of human rights or civil rights in the United States," wrote the spokesperson, sending the UN experts to them for an answer, half a year after they asked for assistance. With hundreds of arrests being chalked up to the Occupy movement and countless accounts of police brutality reported already, however, it is sending a clear message to some that the White House isn't all that concerned over how local law enforcement agencies are interacting with protesters.
"Lack of an answer does not make the US look good in the international community," American Civil Liberties Union Director Jamil Dakwar tells Huffington Post."The US should at a very minimum respond to a letter like this," he says. "And if they believe that law enforcement agencies operated under legal, constitutional authority and there were no problems, then they should explain that and present that" before the Human Rights Council.