Sony royalties get donated to Anonymous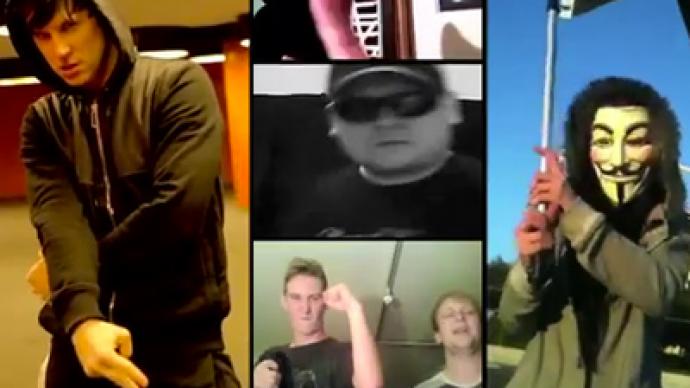 Sometime between the Anonymous-led hacks on their networks throughout 2011, the Sony corporation had to find music to use in a commercial for their Vita handheld game console. Naturally, they went with German industrial anarchists Atari Teenage Riot.
Alec Empire, the 39-year-old founder of the prolific and groundbreaking industrial group Atari Teenage Riot, writes in a blog post this week that not only did he get to stick it to one of the biggest corporate names in the entertainment industry, but at the same time he supported the loose-knit hacktivist collective Anonymous.Empire founded ATR in 1992, only recently performing once again under the moniker. During his decades of making music, Empire managed to become an influential innovator in the field of digital hardcore music and helped launch the careers of tons of like-minded musicians. Somewhere along the way he also managed to have trouble with Sony. In a post published on his Tumblr page on Monday, Empire writes that back in 1999 Sony wanted to use a track of his in the background of an ad for a camcorder that would be aired in South East Asia. He says he never extended permission, and the result left him a bit uneasy. "I have to admit, it hurt a little," he writes now."If you ever tried to fight a corporation like this in court and in another country, let me tell you…you want to do other stuff with that time and money," adds the artist.Empire continues that even though the matter was eventually settled, he "never felt they paid what they owed."It took over a decade, but the end result is something that Empire and the Internet's largest collective of activists seem to think was worth the delayed payoff. When Sony approached Empire this time around to use his track "Black Flags" in a commercial for their Vita gaming counsel, he says he absolutely obliged. As it turns out, the song had already been unofficially adopted by members of the Anonymous hacktivist group, who had re-cut the song and used the music to serve as the soundtrack to a series of Anon-tied YouTube clips, including some featuring WikiLeaks founder Julian Assange. One of the edits even begins with Assange offering his sympathy for the Occupy London movement and includes additional vocals from activist and singer Boots Riley, who in his own right has been a celebrity of the OWS movement. For Sony's ad, the corporation relies on a vocal-less arrangement of the tune to promote the Vita. Probably a smart move for Sony though, given that the lyrics to the ATR original include such gems as "Corporations exploit the power of the state / to further enhance their power / and the real criminals / get away."Sony, apparently, didn't bother to read the lyric sheet. And if they did bother to research Empire at all, perhaps the corporation just happens to have a very twisted sense of humor in deciding what music they think screams "Sony!" The entertainment company, which infamously became the subject of an Anonymous attack after the corporation sued a hacker that exploited a coding flaw in their PlayStation 3 platform, presumably has a pretty powerful research department. Even still, the fact that ATR previously preached in songs lines such as "Fuck you and fuck your state! / I'm going to take it all on me / Destroy the USA!" should have raised a red flag. Instead, Sony got "Black Flags.""It's the old question that is being asked again and again: What's a song worth? When does copyright start, when does it end?" asks Empire. Whatever he got paid for the tune, Empire ends his anecdote by revealing that the proceeds didn't go to recouping the legal fees he needed to combat Sony in 1999. Instead, writes Empire, he extended it as a donation to FreeAnons.org, a solidarity network that provides financial and legal support for defendants across the globe that have been victimized through governmental prosecution over alleged involvement with Anonymous. It turns out that the real price of selling-out to Sony was a good laugh had by Empire and a collective of thousand of online activists. Coincidently, Empire's blog post, published March 5, came only hours before the FBI announced that they had arrested a handful of hacktivists allegedly involved in Anonymous' attacks on the Fox Network, PayPal, MasterCard and, yes, even Sony. Anonymous members have taken credit in the past for hacking the log-ins and passwords of around 100,000 Sony users last year after the company tried to take one of their own to court.Empire adds that the move might help him move some records down the line, but notes that "Black Flags" was free for download all along. If people are that worried, however, he says they should ask themselves a simple question: "Have I donated to freeanons.org yet?" Should creative Anonymous members choose to continue to post edits of the ATR track to the Web, that's fine too, writes the musician. Empire says he checked to make sure that the tune can be used in any online clips he allows, including ones that are pro-Occupy Wall Street, Assange, WikiLeaks and Anonymous.
You can share this story on social media: