Assange likely to avoid espionage charges, but might face computer fraud indictment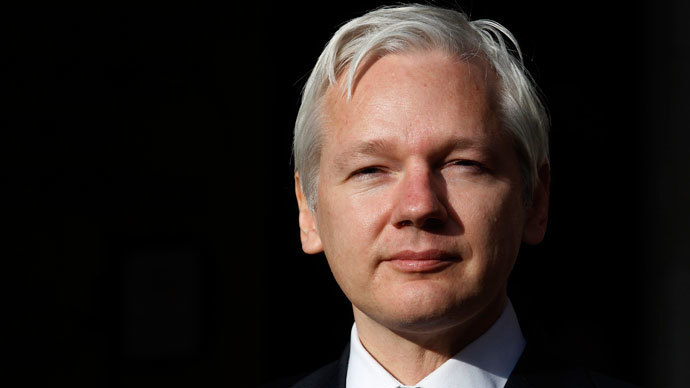 Anonymous government officials in the United States say with more certainty than ever that WikiLeaks founder Julian Assange will not be charged for publishing documents on his anti-secrecy site, but the editor-in-exile isn't exactly convinced.
For the second time in nearly a week, Washington Post reporter Sari Horwitz wrote on Monday that the odds of Assange being indicted for publishing a trove of sensitive government and military materials have greatly diminished since a grand jury investigation first convened in 2010, once again citing unnamed officials familiar with the probe who spoke on condition of anonymity.
Last Monday, Horwitz reported that federal prosecutors in the US do not have a sealed indictment against Assange, contrary to claims made by the anti-secrecy group's founder. "Nothing has occurred so far," a law enforcement official with knowledge of the case told the Post. "But it's subject to change. I can't predict what's going to happen. The investigation is ongoing."
Now one week later, Horwitz has again relied on anonymous officials to make claims that Assange may have escaped the possibility of being charged with espionage for publishing leaked documents, such as those pilfered by Army whistleblower Chelsea Manning, a 25-year-old soldier sentenced earlier in August to three-and-a-half decades in prison for providing WikiLeaks with classified files.
"The Justice Department has all but concluded it will not bring charges against WikiLeaks founder Julian Assange for publishing classified documents because government lawyers said they could not do so without also prosecuting US news organizations and journalists," Horwitz wrote in this week's article, again citing unnamed US officials.
"The officials stressed that a formal decision has not been made, and a grand jury investigating WikiLeaks remains impaneled, but they said there is little possibility of bringing a case against Assange, unless he is implicated in criminal activity other than releasing online top-secret military and diplomatic documents," she continued.
On Tuesday, the official WikiLeaks Twitter account admitted that the organization was skeptical of the Post's report and unleashed a barrage of tweets questioning the information in the article, including the paper's reliance once again on an unnamed official to relay information on behalf of the Department of Justice.
"[T]he source of the report is anonymous officials of unknown proximity case with unknown motivations," WikiLeaks tweeted, adding later that the prosecution's behavior in the Manning trial suggests the government has indeed been gunning to get Assange over publishing those files, and may perhaps hammer him or his associates with not espionage, but other charges.
Why we are skeptical about today's WaPo report (http://t.co/2k68Si6b70) on the WikiLeaks grand jury (1/6) #assange#wikileaks#snowden

— WikiLeaks (@wikileaks) November 26, 2013
(2/6) the source of the report is anonymous officials of unknown proxmity to case with unknown motivations

— WikiLeaks (@wikileaks) November 26, 2013
"The problem the department has always had in investigating Julian Assange is there is no way to prosecute him for publishing information without the same theory being applied to journalists," former Justice Department spokesman Matthew Miller told the Times for the latest Horwitz piece. "And if you are not going to prosecute journalists for publishing classified information, which the department is not, then there is no way to prosecute Assange."
Elsewhere in the stream of tweets published on Tuesday, WikiLeaks indicated that the ongoing grand jury may end without Assange or his associated being indicted for espionage, as Manning was charged, but with Computer Fraud and Abuse Act charges being brought against the volunteers of the organization who helped disseminate the materials supplied by the website's sources. Indeed, an article from Wired's Kim Zetter written mere months after Manning was first arrested over suspected involvement in leaking sensitive files floated the possibility of CFAA charges being brought against Assange and his WikiLeaks associates.
"If prosecutors were to charge Assange for publishing classified documents under the Espionage Act, it would be a political landmine since it would open traditional media outlets, such as The New York Times, to similar prosecutions for publishing classified information, a quagmire the Justice Department likely wants to avoid," Zetter wrote at the time. "But charging Assange with conspiracy under the CFAA instead would help them avoid the constitutional issues. While journalists have generally been protected from prosecution for publishing classified documents, encouraging a source to obtain documents in a manner known to be illegal is not protected."
(5/6) Grand Jury witness demands show this legal theory also. CFAA as used against Swartz is being used. Not just espionage act conspiracy.

— WikiLeaks (@wikileaks) November 26, 2013
Now nearly three years later, such may soon be the case. According to Horwitz, one former law enforcement official told her that the US could file charges against Assange if he is discovered to have committed another crime, "such as evidence that he directly hacked into a US government computer," but they may finally be willing to drop the possibility of an espionage indictment against Assange due to the ramifications it would have on mainstream publishing, an argument that was indeed argued during Manning's court-martial this year.
Barry J. Pollack, a Washington attorney for Assange, told the Times that WikiLeak's legal counsel has asked the DoJ repeatedly for the status of the investigation into Assange, but the government has "declined to do so" on every occasion.
"They have not informed us in any way that they are closing the investigation or have made a decision not to bring charges against Mr. Assange," Pollack added. "While we would certainly welcome that development, it should not have taken the Department of Justice several years to come to the conclusion that it should not be investigating journalists for publishing truthful information."
Meanwhile, the government's prosecution of hackers — largely including those who claim to have acted out of political motivation — has relied heavily on using the CFAA to file federal charges. Earlier this month, US District Judge Loretta Preska for the Eastern District of New York sentenced Jeremy Hammond, a 28-year-old hacktivist with ties to the Anonymous collective and affiliated offshoots, to the maximum term of a decade in prison. Hammond pleaded guilty earlier this year to violating the CFAA by way of infiltrating private computer systems and transferring stolen contents to a government-owned server in the possession of a confidential informant upon the mole's request. According to journalist Parmy Olson's 2012 book, We Are Anonymous, that same informant participated in internet chats with WikiLeaks associates the previous year, including possibly Assange himself, and may have attempted to implicate him in the hacking crimes being orchestrated by Anonymous by way of their informant. The informant, Hector Xavier Monsegur, has been scheduled to be sentenced four times since his arrest two years ago for multiple computer crimes committed before becoming a turncoat, but those hearings have continuously been postponed due to his ongoing cooperation with authorities, the likes of which helped bring down Hammond and others.
Judge Liam O'Grady of the US District Court for the Eastern District of New York has been overseeing a federal investigation involving the internet habits of several associates of WikiLeaks —namely Jacob Appelbaum,Rop Gonggrijp and Birgitta Jonsdottir– which was last authorized to remain under seal in May 2013. That order would have since expired, but as RT reported last week, the court is unable to confirm if O'Grady ordered an extension since the case is closed to the public.
During the Manning military court-martial, prosecutors made repeated attempts to tie Assange and WikiLeaks more directly to the soldier's actions, though Manning admitted on the stand in January, "The decisions that I made to send documents and information to [WikiLeaks] were my own decisions, and I take full responsibility for my actions."
You can share this story on social media: