White supremacists violently clash with anti-racists near Chicago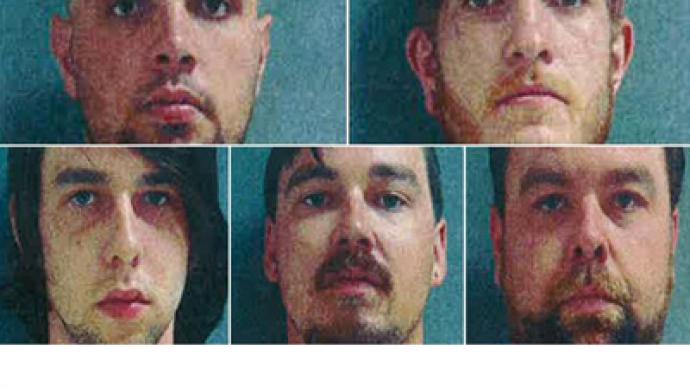 Groups with opposing ideologies about race in America clashed at a suburban Chicago restaurant over the weekend, and though the bloody aftermath has since been dealt with, two parties of extremists are now more at odds than ever.
Several men are in jail and even more are injured after a self-described "anti-racist" group stormed into the Ashford House Restaurant in Tinley Park, Illinois on Saturday and allegedly assaulted members of an organization with white supremacy ties. Investigators tell reporters that the family restaurant sustained around $15,000 in damages and that ten people were injured, three of whom required treatment for head wound injuries."The whole thing took about 90 seconds to transpire," Tinley Park Mayor Ed Zabrocki, who saw surveillance camera footage of the event, tells the Wall Street Journal. "You see tables moving into view, food spilling on the floor.You see them marching out and you see some of the waiters taking swings at them."The alleged assailants are believed to be members of the Hoosier Anti-Racist Movement (H.A.R.M.). The clearly orchestrated attack targeted a meeting of around a dozen members of the Illinois European Heritage Association that had been advertised online. That group has considerable links to the White Pride movement and is heavily represented on the Stormfront.org message boards, a collection of online forums that aims to spread "white pride world-wide."According to authorities, the suspects stormed into the Tinley Park eatery cloaked in disguises and began assaulting the alleged white supremacists with steel batons and hammers. "You see the door opens up, these 15, 18 people walk in. They've got hoods on, they've got masks on," Mayor Zabrocki tells reporters."I've been mayor for 31 years," Zabrocki adds to ABC News, "and I've never heard of anything stranger than this.""It's like you have someone from extreme left field and someone from extreme right field come to center field to fight — and Tinley Park was center field."Five of the attackers were identified and apprehended by law enforcement and charged with aggravated battery, mob action and criminal damage to property, all felonies, ABC News reports. Prosecutors for the court add after the fact that the defendants believe that they were indeed attacking a white supremacist group, although members of Heritage say they were meeting to discuss economics, not race.Regardless of Heritage's alleged intentions, preliminary information on their Chicago-area meeting were posted on Stormfront as early as February 2012 by a user posting as Sgathaich, who is affiliated with a separate site that advocates, among other things, ending the alleged genocide of whites in South Africa. That site, prisonoutreach.webs.com, also links to online sites that sell White Power memorabilia and discusses pro-white activism.Although authorities have not apprehended all of the suspects in the attack, two of the victims have also been charged, but not with any crimes related to the incident. Steven Speers of North Dakota was arrested for having an outstanding warrant for possession of child pornography and Francis Gilroy of Florida was charged with unlawful possession of a firearm by a felon.Mayor Zabrocki adds to the Journal, "As far as we can tell, none of these groups had any connection to Tinley Park, Chicago or even Illinois."As authorities continue an investigation, however, more about both sides of the skirmish is coming to the surface thanks to outspoken members who have taken to the Web to discuss the incident. On Stormfront, whose webmaster touts as "the first white nationalist website," white pride activists furious over the attack were calling for revenge within hours of the story breaking."Can we get some more Intel on this?" asks one message board patron using the handle 'Milky.' "Pictures, addresses, phone numbers, family members who they are married to or parents' names etc. It hink they need to have the same thing done to them as they do to us. Thanks."Other members followed that call for action by posting personal photos and contact information lifted from social media accounts believed to be tied to alleged members of HARM.In responding to a user that posted the mug shots of five of the suspects, another user, 'BioZQ,' writes, "Five faces of self-hating white men. Absolute scum. Hope they all get cancer."Another responded to that quip by suggesting that "AIDS" would be a better cause of death, which was followed by a smiling emoticon. On the other side of the spectrum, H.A.R.M. is attempting to raise $250,000 for the legal fees for "The Tinley Park Five." As of Wednesday afternoon, they'v eonly managed to collect $695 but are already being subjected to ridicule by opposing sanctions. The H.A.R.M. Facebook has been flooded with pro-white propaganda and some posters of Storm Front admit to reporting HARM's anti-racist group page as being "hate speech." "Nothing brings white supremacists together like mutual aid for child pornographers," H.A.R.M.'s Facebook administrators write in a mocking post on their own site. Back on Stormfront, though, posters there discuss not just escalating the feud online, but back on the streets."I had a few IP address trying to hack my computer last night; so I manually block them for eternity; but I suppose there will be many more trying to get into my computer. We must reverse and exploit their own tactics. Someone mentioned about not having to bring a gun to a diner; but if people come in with bats; what do you have for protection besides chairs?" asks Stormfront user Jukuls."Also, keep all sensitive data on a USB and not on your hard drive. Clean your disk frequently and sect your internet options on high privacy ratings and delete all cookies and use good software to protect your computers, because some of these freaks are trying to hack into your computers."Jukuls goes on to describe those "freaks" by writing, "Some look like queers or people with bi-sexual tendencies- equality fags for sure."Tinley Park police are still searching for other suspects in the case. The owner of the restaurant tells the Chicago Tribune that he blames both groups for the incident.
You can share this story on social media: