Boxing champ knocks out taunting skinhead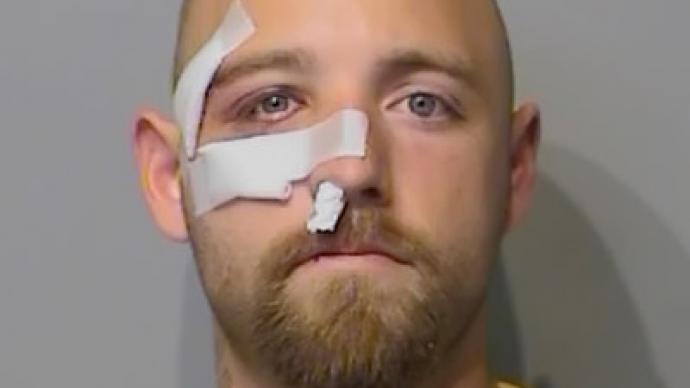 If you're going to launch into a drunken tirade of racially-driven hate speech in an Idaho state bar, you should probably make sure that you aren't directing it at someone wearing a "Boxing Club Champion" t-shirt.
Daren C. Abbey, 28, didn't really take that into consideration when he told a 46-year-old African American patronizing the same Bayview, ID watering hole that "blacks are not welcome here." Abbey continued to bark slurs and even shove the man, Marlon L Baker, who eventually decided it was in his best interest to vacate the premises.That wasn't good enough for Abbey, however, who followed Baker out of the bar and continued to rant. Abbey has a couple of swastika tattoos and a few other neo-Nazi markings, as well as a skinhead-style buzzcut. He also isn't that smart.Abbey allegedly charged at Baker after following him around 400 yards outside of the bar. Baker took a swing, and, as you might expect a boxing champ to do, knocked the skinhead right to the ground.Sheriffs and paramedics responded and, once he regained consciousness, Abbey was booked on charges of misdemeanor battery and felony malicious harassment. The daring little white-supremacist is being held on a $75,000 bond while he waits with a bandaged face and a broken nose. Had Abbey been sober enough to make sense of Baker's t-shirt, "Spokane Boxing Club champion," he might not have taken the incident as far as he did.In a conversation with the Southern Poverty Law Center, Spokane Boxing Club owner Rick Welliver says he didn't believe Baker was actually a licensed, professional boxer, but that didn't mean he still couldn't pack a punch. "I'm happy Marlon finally won a fight, but he's not a boxer," says Welliver.
You can share this story on social media: