Toughest sheriff's department involved in drug ring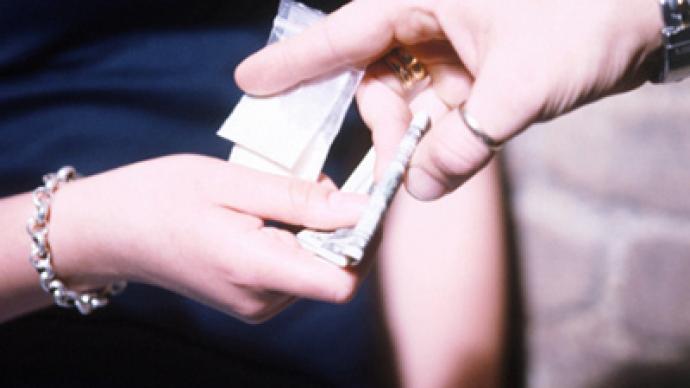 Maricopa County Sheriff Joe Arpaio has built quite a reputation over the years for being a bit hard on his inmates. Prisoners at his south-central Arizona jail sleep in a tent city outside and are fed green bologna sandwiches for lunch.
Arpaio is perhaps best known, however, for forcing his men to wear pink underwear because, well, they just don't like it. He once made nearly 1,000 of his jailers march four blocks wearing only their soft-hued shorts and flip-flops — something he said was necessary and cited it as a "security issue."It looks like a few more people will be donning the pink boxers soon, and Maricopa County's newest inmates probably have a good idea of what's in store for them.Sheriff Arpaio's own Deputy Alfredo Navarette and two female detention officers were accused this week of being involved in a Phoenix-based drug smuggling ring, an operation that regularly unloaded pounds of heroin produced in Mexico across the border and into Arpaio's own district. Naravette was arrested when he reported to work on Tuesday, and an investigation of his home further revealed that he was harboring two illegal immigrants. Navarette was once a member of Arpaio's human smuggling unit and was cross-trained as a federal immigration agent; now the deputy is facing felony charges for trafficking both drugs and humans. "We have enough violence without having moles in my own organization that put my deputies in danger," Arpaio said in a press conference this week."Every organization, you're going to find some people who do wrong," he added."It's human nature."The arrests would hit hard for any police department, but Arpaio's in particular has developed a rep for being strict, strict, strict; Sheriff Joe often refers to himself as America's "toughest sheriff" and has been an outspoken opponent of illegal immigration. In 2008 he was accused of sending officers into heavily Hispanic communities and having them arrest anyone that could not prove US residency. As a result he has been deemed a racist and a Nazi by some. He doesn't deny his racial profiling and boasts about the meager conditions his prisoners face.Along with Navarette, detention officers Marcella Hernandez and Sylvia Najera face charges for their alleged involvement in the human and drug trafficking rings. Hernandez has since revealed that she is in her third trimester with the child of the drug ring's leader. Additionally, another seven employees of Maricopa County Sheriff's Department are being investigated for possible involvement.So far the investigation has led to the seizure of ten pounds of heroin, nearly $200,000 in cash, weaponry, vehicles and stolen property. Hernandez was holding $16,000 in cash when she was arrested, and additional charges of the trio include alleged involvement in laundering money and conspiracy, among others.Navarette was ordered to be held on a $1 million cash bond, with double that necessary to release Hernandez. The arrests are particularly humiliating to Arpaio, who has bragged long and hard about the efficiency of his squadron. Navarette, who has since admitted to passing off information about the sheriff's crime-prevention operations to groups and tipping off drug dealers, is an 11-year veteran of the department.If convicted, they should expect a rather length stay at Arpaio's Friendly Tent City of Moldy Sandwiches and Chain Gang Labor. Speaking to NPR in 2008, the sheriff said, "We put the holds on them so they won't be released back to the streets. We do that since the cops will not do it."
You can share this story on social media: