Good deal gone bad: Glitch causes overcharge for promo airfares
Published time: 5 Aug, 2012 03:47
Edited time: 5 Aug, 2012 07:48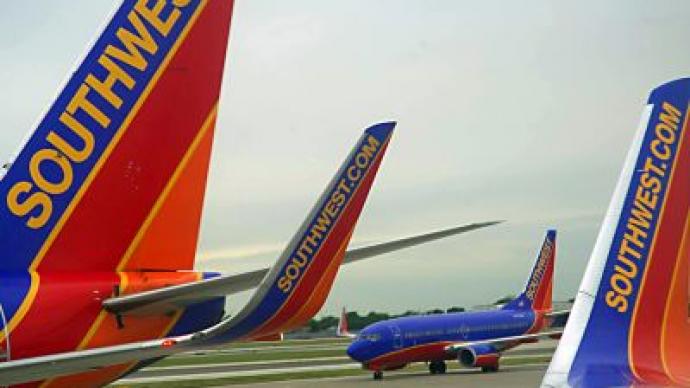 A number of Southwest Airlines customers who thought they were getting a good deal buying promotional half-priced tickets ended up paying for much more than they expected. The firm says a glitch caused the multiple bookings.
­The company, celebrating the fact that its Facebook page had reached three million fans, slashed ticket prices by 50 per cent, saying the "overwhelming response" to the offer caused "website performance issues."

"We realize that some customers were charged more than once for the same reservation," a statement on the company's website reads.

As the promo was underway on Friday, the company became aware of these issues when it started experiencing website slowdowns and noticed its clients had to repeatedly refresh pages to buy tickets online, company spokesperson Ashley Dillon said.

"It wasn't a hack, it was just a technology glitch in our system that caused that," Dillon noted.

Hundreds of angry clients were soon posting stories on Facebook and their blogs about how their credit cards were charged multiple times.

"I was charged 30 times x $779.20 for $23,376.00 on my AMEX card," User Robert Solloway commented on the company's Facebook page. "I had to put a hold all purchases due to the SWA error. How is SWA going to compensate for this?"

Another user, Sean Mahan, was more even more hostile in his comment.

"Each over purchase cost customers overdraft problems and charges, and tied up cash from checking accounts creating a domino effect," he wrote. "You owe for every overdraft period. Pay up or you'll see a billion dollar class action lawsuit."

Would-be flyers wrote about the negative effect the "glitch" could have on their credit history. Some report that their checking accounts were drained and that their credit cards were cancelled.

Suzanne Worrell was eager to pay just $69.60 to fly from Virginia to visit her dad in Georgia. However, after she was done with the online transaction, Southwest's website froze and she failed to receive an e-mail verifying her purchase. She then logged in to her credit card's website and saw that she was being billed for 20 seats.

"They've charged over $1,400 now for a $69 ticket," she said.

The company's phone lines were overwhelmed by a flurry of frustrated clients complaining about being overcharged.

Southwest says it will refund all duplicate purchases and cancel all additional reservations. The air carrier also assured customers that it would reimburse any overdraft penalties they were forced to pay for overspending their limit.

"It is our goal to rectify this issue as quickly as possible and minimize any inconvenience to you, our valued customers," Southwest says in its online statement.