Fatalities, flights delayed as heavy storm lashes US East Coast ahead of Thanksgiving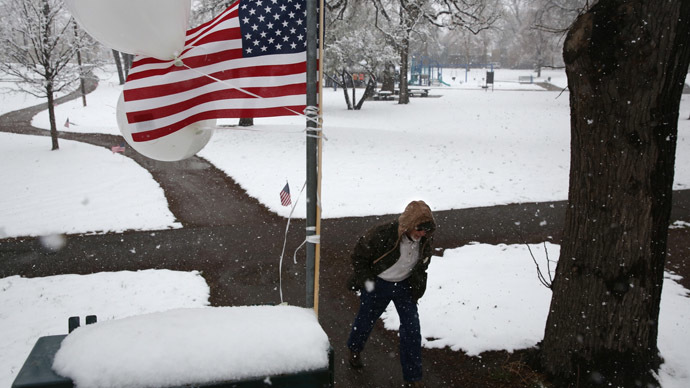 A wintry storm system is heading for the US East Coast, bringing snow, sleet and rain, according to the National Weather Service. 13 people have already been killed in weather related incidents in the West and Mid-West of the US.
Forecasters are still unsure of the disaster's exact path. So far, heavy rain on Tuesday and Wednesday for much of the East Coast and Central Plains is expected.

"If that's the case it will be your typical soggy-rainy-delay-type situation," Lora Wilson, an NWS meteorologist, said.

However, this same storm was responsible for thirteen deaths in the country's West and Mid-West, NBC reports.

In New Mexico a 4-year old girl was killed in the eastern part of the state in a road accident. While in Texas another three people were killed Saturday in a pile up involving a dozen vehicles.

In Texas, at least 650 flights were canceled in and out of Dallas-Fort Worth International Airport on Sunday, according to the website FlightAware.com. 300 flights are also set to be grounded on Monday.

"It's certainly going to be a travel impact as we see the first few people making their way for Thanksgiving," NWS meteorologist Tom Bradshaw told AP.

Finally! #NM getting some snow. #nmwx#storm#travel#letitsnowpic.twitter.com/jsypad6mNO

— Susan M. Bryan (@susanmbryanNM) 24 ноября 2013
Another hazard would be the traffic situation. Meteorologist Steve Fano stressed the need for motorists to be careful on the road.

"If nothing else, roads are going to be wet and it's going to be cold, so caution definitely is advised in traveling," he said.

A mix of rain and sleet began falling north of Dallas by midday Sunday, with elevated overpasses having icy surfaces.

The National Weather Service has issued winter weather advisories across the region, with some of them to last until Tuesday morning, Reuters reported. 
Snow in Texas! This was Amarillo today. @Mike_HKABB will be w/ us at 9 to tell u how cold temps will get here #FoxSApic.twitter.com/yyCZDU6C5s

— Grace White (@Grace__White) November 25, 2013
Temperatures were set to drop drastically by Monday, and "these conditions would even be considered cold by January standards," the advisory said.

The only warm weather the US is to see during the holiday is in California, Florida, and some parts of Arizona.

The Thanksgiving holiday weekend is one of the most heavily traveled in the US.

Around 39 million people are expected to be traveling from Wednesday to Sunday, according to travel group AAA. 
You can share this story on social media: