Arizona inferno: 19 firefighters killed, town evacuated, 250 homes feared destroyed (PHOTOS)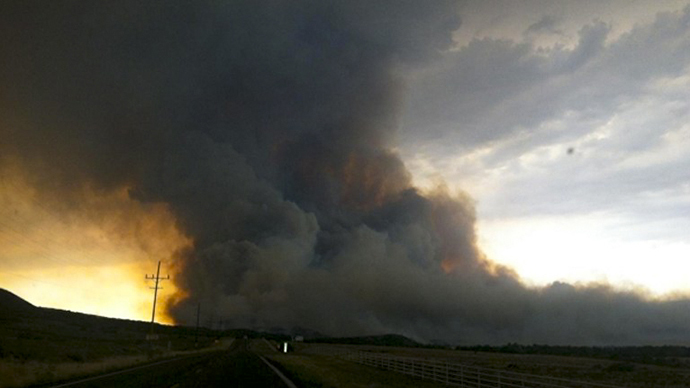 Fire investigators have launched a probe after 19 elite firefighters died battling a wild-land blaze near the town Yarnell Hill in Arizona. Meanwhile, more brigades are being sent in an attempt to fight the out-of-control fire.
Arizona governor Janice Brewer ordered all state flags to be flown at half-mast from July 1 to July 3 to honor the "bravest firefighters."
"This fire is the deadliest wildfire in state history, and our nation's deadliest in 80 years. The fire has also claimed the lives of more first responders than any single disaster since 9/11," she said in a statement, calling the day of tragedy one of the state's "darkest" and "most devastating."
An estimated 250 homes are feared destroyed by the ongoing fire that is currently covering more than 8,000 acres.
State forestry predictied fire would continue to grow quickly Monday, as erratic winds and heat fuel the blaze, AZ Central reported, nothing that the area has not had a fire in 40 years.

PHOTOS: #YarnellFire rages on in darkness. http://t.co/HwpALPg1kIpic.twitter.com/HhaawpfODG

— azcentral (@azcentral) July 1, 2013
Wickenburg Community Hospital is treating at least eight firefighters who were among 22 injured in the line of duty.
One of the surviving firefighters reportedly sustained burns to 75 percent of his body.
"It has been confirmed that 19 wildland firefighters have lost their lives on the Yarnell Hill fire Arizona," the US Wildland Fire Aviation said. Arizona Secretary of State Ken Bennett declined to provide the name of the firefighters. 
TRUE HEROES! PHOTO FROM THE 19 PRESCOTT FIREFIGHTERS IN BETTER DAYS. 'THOUGHTS & PRAYERS TO THEIR FAMILIES'. DCOURIER http://t.co/pcMw5mvpEa

— 911 Operator (@911BUFF) July 1, 2013
The 19 were caught while trying to deploy their fire shelters, which trap breathable air and shield the firefighters from flames and hear exposure, authorities told AP.  

Reichling said the fire is quickly reaching "Type 1" status, which the most critical level, and  is currently burning with zero containment.
It is estimated that two hundred firefighters are now battling the flames. Federal authorities are expected to arrive with additional force to help tackle the disaster. Reichling expects manpower to reach about 400 people and involve numerous water carrying aircrafts.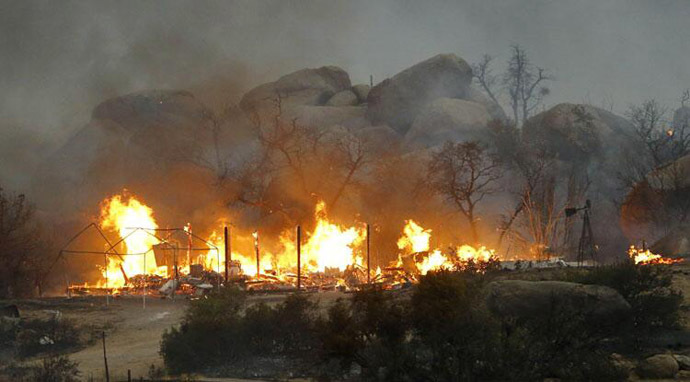 About 250 firefighters, including two Type 2 crews, three Type 1 crews, and four engines, were on the scene, Reichling confirmed. Three Type 1 crews, seven helicopters, two air tankers, four single engine air tankers, and multiple engines and air tankers were ordered. 
On Sunday, 50 homes in the Buckhorn, Model Creek and Double A Bar Ranch areas some 85 miles from Phoenix were ordered to evacuate. By afternoon the evacuation order  included residents in the Peeples Valley area and in the town of Yarnell.

MAP: The location of #Yarnell, where 19 firefighters were killed in #Arizona's worst wildfire disaster. pic.twitter.com/3W9dUbcg7E

— azcentral (@azcentral) July 1, 2013
The natural disaster also shut down state Route 89, the Arizona Department of Transportation announced.

The Red Cross has opened a shelter at Yavapai College in Prescott, the sheriff's office said.

The blaze erupted first on Friday but rapidly spread on Sunday as the area was hit by unfavorable weather conditions including high temperatures, low humidity and windy conditions.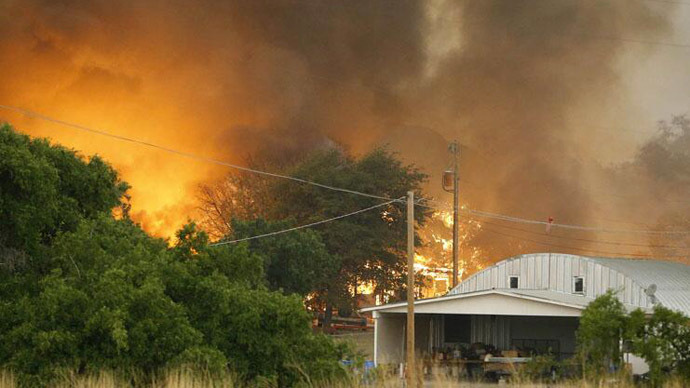 Currently, firefighters are battling other blazes in Arizona including  the Doce Fire in Prescott, which is more than 30 miles (48km) northeast of Yarnell. Doce Fire was 96 percent contained on Sunday and will cost authorities around US$6.7 million.
One of the largest fires in Arizona happened in 2002 when the blaze spread to 468 acres destroying almost 430 structures.
The previous most deadly wildland fire involving firefighters was a 1994 Storm King Fire near Glenwood Springs, Colorado that killed 14 firefighters.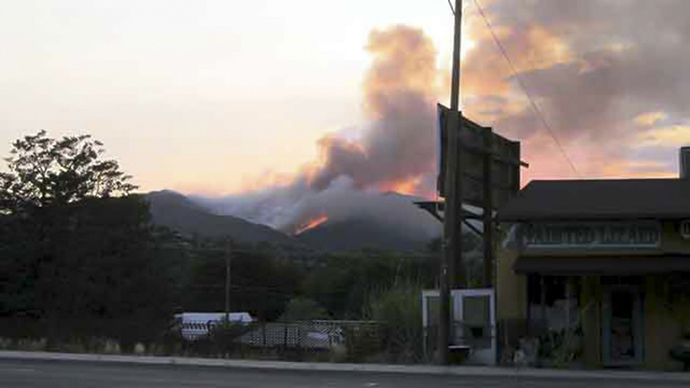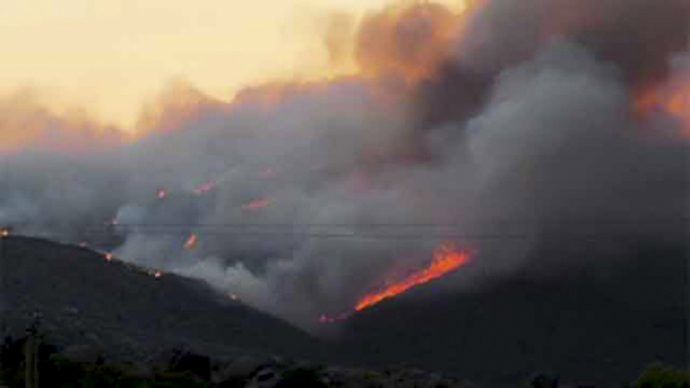 You can share this story on social media: