'Worst in years': St Jude storm wreaks havoc across N. Europe, at least 15 dead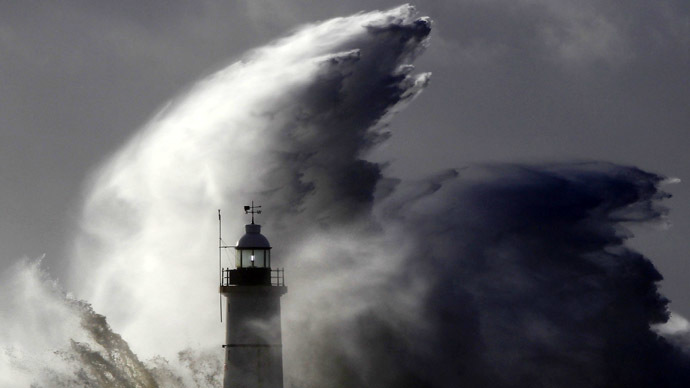 At least 15 have been killed as violent storms have battered the UK, the Netherlands, Germany, Sweden and parts of northern France, cutting off power and felling trees and scaffolding.
According to the latest reports the storm has ravaged through the Baltic Sea region, causing blackouts and transport collapses.

In Sweden, where winds reached speeds of 42 meters per second, the storm left without electricity about 90,000 buildings.
In Estonia, St Jude caused power cuts to over 50,000 households, as more than 2,500 electrical substations went out of order.
Three towns with total population of 68,000 people and over 2,000 households remain without electricity in Latvia.
St Jude has reached Russia's northern capital St. Petersburg, where a gale warning has forced authorities to activate city flood protection systems. The storm has already led to electrical power outages in 208 towns and villages in Russia's Leningrad Region, leaving over 30,000 people without electricity, according to Emergencies Ministry.

The water level in the Neva River is rapidly increasing. Within just half an hour – between 3pm and 3:30pm local time - it rose from 86cm to 111cm at the gauging station at St. Petersburg's Mining Institute. 
м. Нарвская #СвятойИуда #СанктПетербургpic.twitter.com/Q1hsMzu9xe

— FFF (@DuSomLyser) October 29, 2013
Devastated Great Britain

The storm swept southern England, killing a 17-year-old girl when a tree smashed through the trailer home she was staying in. A 50-year-old was also killed in his car when it was crushed by a falling tree in Watford, north of London, and in Amsterdam, a woman was killed when a tree collapsed on top of her in the city. 
Monster waves stirred up by the storm were also responsible for dragging two people out to sea. One woman in her 50s was swept off France's northern coast after being carried away by a wave. Emergency services are mounting a rescue operation. 

PM on #UKstorm: Our thoughts are with the families & friends of those who have lost their lives. I pay tribute to our emergency services.

— UK Prime Minister (@Number10gov) October 28, 2013
A teenage boy is also missing and believed dead after being swept out to sea while playing in the surf in Newhaven on England's south coast Sunday. A search was initially begun for the 14-year-old, but the rough sea conditions forced his potential rescuers to suspend their mission. The Maritime and Coastguard Agency said the operation had now become one of search and recovery. 
Two further people  – a man and a woman – were  found dead in west London after a gas explosion, thought by police to have been caused by a felled tree damaging a pipeline.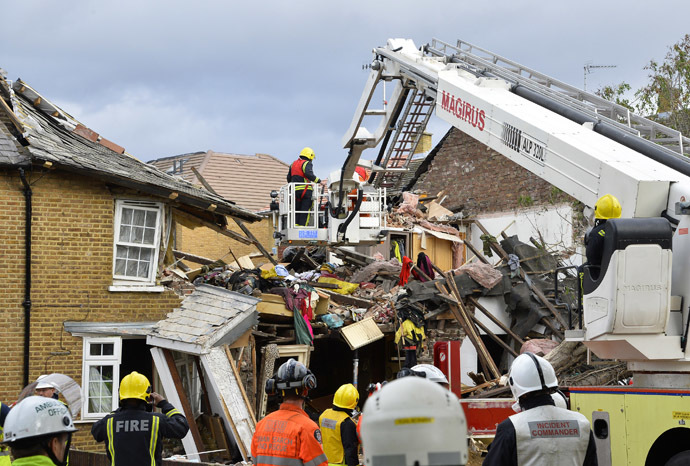 Flood alerts have been issued nationwide, with 132 in place across England and Wales.  Up to 270,000 homes across the UK were left without power in the wake of the storm, while in northwest France some 75,000 homes were left without power or electricity.

The port of Dover in southeast England was closed, two cross-channel passenger ferry services suspended mid-crossing, and the Eurostar high-speed rail service, which goes under the Channel, was out of action until 7:00 am GMT Monday. Waves as high as 25 feet lashed England's southern coastline as the storm began.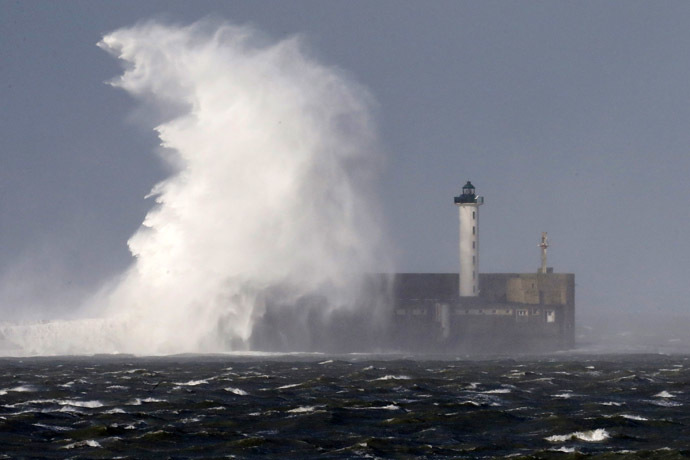 Heathrow Airport, Europe's busiest air transportation hub, was forced to cancel some 130 flights on account of hurricane-force winds, which reached speeds of up to 99 miles per hour (159 kilometers/hour) on England's south coast.

The possibility of further falling trees and debris has thrown public transportation into chaos with people fearing dangerous driving conditions. A double decker bus keeled over in Suffolk, on England's east coast, a crane collapsed on the roof of Downing Street's Cabinet Office and rail services faced delays and cancelations. Meteorologists described St. Jude as the worst storm to have struck the UK in years.

UK Meteorological Office spokesman Dan Williams told Reuters that the last storm on a similar scale, considering both time of year and regions struck, was in October 2002.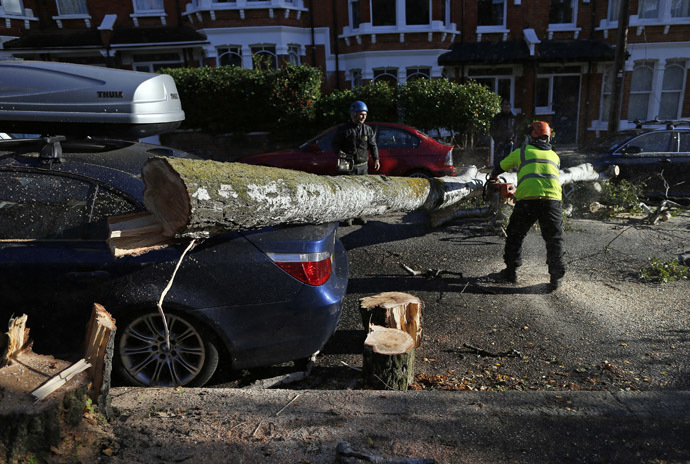 "The thing that's unusual about this one is that most of our storms develop out over the Atlantic, so that they've done all their strengthening and deepening by the time they reach us," Helen Chivers, another spokesperson for the Met Office, told Reuters. "This one is developing as it crosses the UK, which is why it brings the potential for significant disruption ... and that doesn't happen very often."

The storm has also prompted the closure of two nuclear power reactors at Dungeness, on England's southeast coast. Its operator, EDF Energy, stated that "the shutdown was weather-related. The plant reacted as it should and shut down safely."

It added that unit availability was expected to stand at zero for the next seven days. The reactors were shut after power to the site was cut off.

Mainland Europe takes the hit

Six have been killed in Germany, the majority in separate incidents of trees falling on vehicles. In Gelsenkirchen, northwest Germany, a falling tree killed the driver of a car and a young passenger, according to police reports cited by Zeit Online. Two other children were injured in the process.
A sailor and an angler were also killed in Germany on Sunday, according to a policewoman who spoke to the paper. Hamburg declared a state of emergency in the afternoon. In Denmark, a man was killed after being hit by an airborne brick. Copenhagen saw record winds of 120 miles per hour (194 kilometers/hour).
In the Netherlands, a 'red' alert was announced by meteorologists for the regions of South Holland, Holland, Zeeland, Utrecht, Flevoland, Friesland and Groningen, with wind speeds of 140 kilometers reported.  The red alert only happened once last year, and not at all in 2011. All traffic to Amsterdam was shut down, and fifty flights to the city's Schiphol airport were cancelled. Winds were expected to near the 130 kph mark in the afternoon.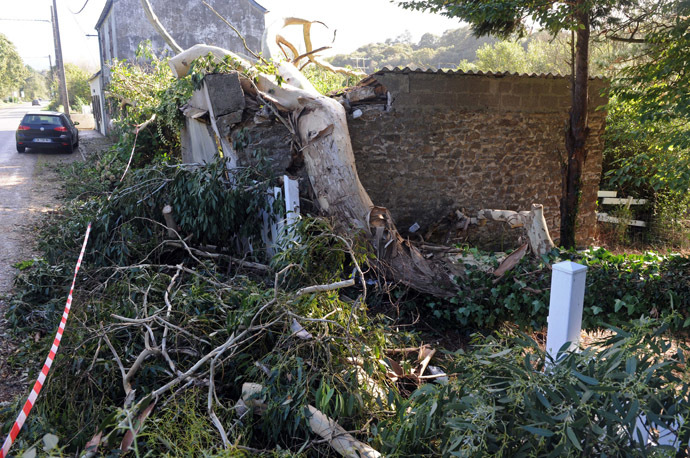 You can share this story on social media: