1999 study predicted catastrophe in Washington mudslide area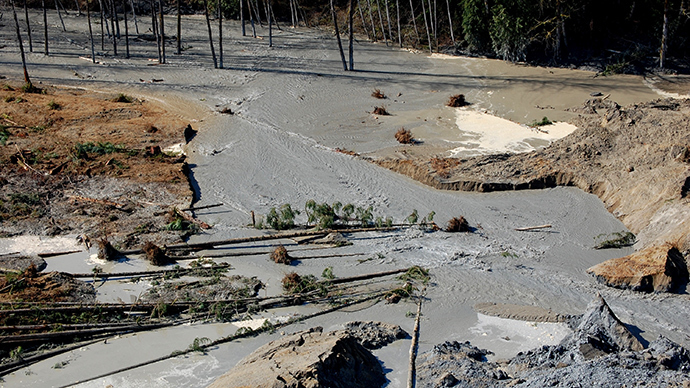 With the death toll in last weekend's deadly Washington mudslide likely rising to two dozen, a report commissioned by the US Army Corps of Engineers well over a decade ago predicted that a catastrophic landslide in the area was all but inevitable.
Rescue workers continued to dig through viscous muck and debris under drizzling rain throughout Tuesday near the rural town of Oso in Snohomish County, Washington. As many as 176 people are listed as missing three days after a massive mudslide gushed down a rain-saturated hillside, swallowing a neighborhood after barreling over a river and a nearby highway.
"Unfortunately we did not find any signs of life today, we didn't locate anybody alive, so that's the disappointing part," Reuters cites local fire chief Travis Hots as telling a media briefing. Hots noted that eight sets of remains had been found as a result of rescue efforts, though the official death toll would remain at 16 pending medical examinations.
Officials believe the number of missing could decline, as many of those believed missing have been double-counted or have not made friends and family aware of their whereabouts in a timely manner.
Search and rescue operations continued throughout the night and were set to return to full strength at daybreak.
Meanwhile, a 1999 report filed with the US Army Corps of Engineers warned of "the potential for a large catastrophic failure," the Seattle Times recently reported.
"I knew it would fail catastrophically in a large-magnitude event," though not when it would happen, said geomorphologist Daniel Miller, who was hired to do the study. "I was not surprised."
Snohomish County officials have denied knowledge of the study, while John Pennington, director of the county's Emergency Department, said local authorities had done their best to warn residents of the landside dangers.
Pennington said residents in the area which had long been dubbed "Hazel Landslide" due to the frequency of such events over the last half century, "were very aware of the slide potential," AP reports.
"We've done everything we could to protect them," he said.
However, according to the Seattle Times, Pennington seemingly contradicted himself by telling a press conference that the hill "was considered very safe."
"This was a completely unforeseen slide. This came out of nowhere," he said.
Patricia Graesser, a spokeswoman for the Army Corps of Engineers in Seattle, said that Miller's report had not been intended as a risk assessment, but rather as a feasibility study for ecosystem restoration.
Asked whether the agency should have done anything with the information, she told AP: "We don't have jurisdiction to do anything. We don't do zoning. That's a local responsibility."
Miller, who also documented the hill's landslide conditions in a report written in 1997 for the Washington Department of Ecology and the Tulalip Tribes, has extensive knowledge of the landform's volatile history.
Following the last major landside in the area, which occurred in 2006, Miller was shocked to see new homes being built despite the inherent risks.
"Frankly, I was shocked that the county permitted any building across from the river," he said.
"We've known that it's been failing," he said of the hill. "It's not unknown that this hazard exists."
Saturday's landslide was not the first to strike an inhabited area in the state. In the late 1990s, a slowing moving landslide destroyed more than 100 houses in the town of Kelso. But the event in Oso ranks among the deadliest landslides in modern US history. In 1969, 150 people were killed in landslides and flooding in Nelson County, Virginia.