2013 saw fewest weather disasters in recent history - but will luck hold?
Published time: 27 Dec, 2013 23:36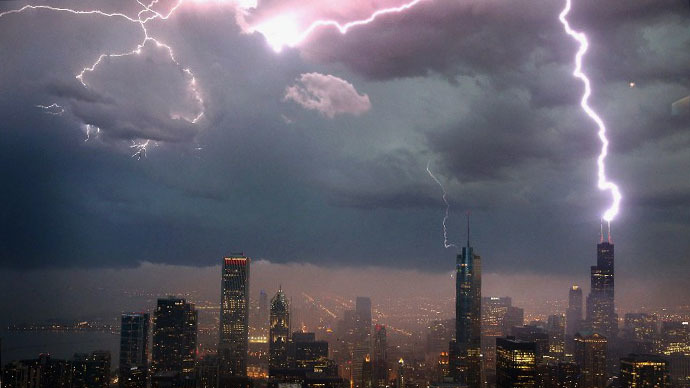 The year 2013 was historically kind to the US, with tornadoes, wildfires, hurricanes, and other weather-related disasters occurring at near-record infrequency. Still, meteorologists say that global temperatures have continued to rise.
While there is still some time remaining on the 2013 calendar, the SI Organization - a self-described engineering and technology company that has worked with the US Department of Defense - released a recent report deeming the past year as one of the mildest in terms of devastating natural disasters.
For example, the number of wildfires that burned across the US was on pace to be the lowest in the last 10 years. By October 16, according to the National Interagency Fire Center, 2013 had seen 40,306 fires ravage 4,152,390 acres. That total, which accounts for the devastating fires outside Colorado Springs that displaced hundreds of people in June, is the lowest since 5,254,109 acres burned in 2008.
At the same time, just two hurricanes passed through the Atlantic Basin and both Humberto and Ingrid were Category I storms that dissipated quickly.
"The eastern Pacific Ocean has had no major hurricanes this season meaning there has been no major hurricane in either the Atlantic or Pacific which only occurred one other yea in recorded history – 1986," meteorologist Paul Dorian wrote for the SI Organization. "This is actually quite extraordinary since the two basins are generally out of phase with each other (i.e. when one is inactive the other is active)."
"Finally, another interesting stat with respect to hurricanes has to do with the fact that we are currently in the longest period since the Civil War Era without a major hurricane strike in the US (i.e., category 3,4, or 5)," Dorian continued. "The last major hurricane to strike the US was Hurricane Wilma during late October of that record-breaking year of 2005 – let's hope this historic stretch continues. By the way, just as a point of comparison, in 1954 the US was hit by three major hurricanes in less than 10 weeks."
But scientists say the good weather is an anomaly - not a sign of things to come. November 2013 was the warmest November for Earth since national records began in 1891, according to data released by the National Climatic Data Center. The US was 0.3 degree below its monthly average in November, but record warmth in Russia heated much of the rest of the world.
"Most of the world's land areas experienced warmer-than-average monthly temperatures, including much of Eurasia, coastal Africa, Central America and central South America. Much of southern Russia, northwest Kazakhstan, south India, and southern Madagascar were record warm," the data center reported.
In part because of that trend, 2013 is tied with 2002 as the fourth-warmest year on record. Experts say that over the past century, sea levels have raised around the US by nearly eight inches.
"It's only going to get worse," Benjamin Horton, a professor at Rutgers University's Institute of Marine and Coastal Science, told USA Today. "The rate of sea-level rise could more than triple in the next century. We're talking about rates we haven't seen in 6,000 to 7,000 years."
As such, the rarity of hurricanes has been an especially fortunate occurrence. The US cities of Norfolk, Charleston, and Miami – located in the states of Virginia, South Carolina, and Florida – regularly experience flooding at lunar high tides. New York City and New Orleans have both been crippled in recent years by storms that brought high sea levels flooding into city streets. In New York, work continues even now to repair the extensive subway damage caused by 2012's Hurricane Sandy.
The Defense Department and Army Corps of Engineers have begun working with lawmakers in coastal cities throughout the country to make up for the ignorance of the past.
"We got it wrong," said Joe Bouchard, a retired Navy captain who headed the Norfolk naval base from 2000 to 2003. "We weren't thinking about climate change, period."