​Immigrant detainees resume hunger strike at Washington private prison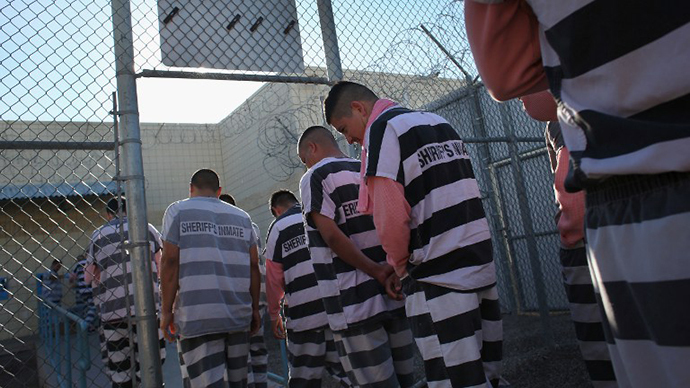 Around 70 detainees at a privately-run immigration holding prison in Tacoma, Washington have refused meals, reigniting a hunger strike that hundreds of inmates participated in earlier this month, Reuters reported.
Attorneys and activists monitoring the situation said the protesting inmates are demanding improved conditions at the Northwest Detention Center and an end to the Obama administration's deportation operations, an unprecedented effort to expel undocumented immigrants from the US.
The original hunger strike that began in early March lost momentum, as several persistent inmates were separated from the general population and put under medical observation. The detention center managers said about 750 detainees participated in that strike, though attorneys for inmates said it was more like 1,200 that took part.
Though starting Monday, about 70 detainees again refused food, according to Angelica Chazaro, an immigration attorney and University of Washington law professor who represents several of the inmates. The detainees revived the strike after managers failed to improve their working conditions, among other demands, Chazaro said.
Jessica Ramirez, an activist for the Not One More Deportation campaign, said advocates for the inmates met with US Immigration and Customs Enforcement (ICE) officials recently regarding improved job conditions, increased pay at inmates' $1-per-day jobs, and better food quality.
ICE spokesman Andrew Munoz in Seattle, however, told Reuters he was not aware of a renewed hunger strike at the facility.
Only one detainee from the earlier protest is still under medical watch, as is ICE policy when inmates refuse sustenance for 72 hours, Munoz said.
Jesus Gaspar Navarro, the lone holdout, has fasted since March 6, Chazaro said, adding that it is unclear how many from the original protest were still refusing food as of Monday.
The first wave of hunger strikers prompted facility officials to warn of forced feedings if need be. Munoz said ICE has not performed any such court-ordered, involuntary feedings at the detention center.
The new protest coincided with a suicide attempt at the facility, though Chazaro said the incident did not spur the latest strike. An ICE official told Reuters an inmate was taken to the hospital Monday, but did not offer any more details.
The Tacoma hunger strike was inspired in part by similar protests in Arizona. Both facilities are operated for the federal government by private prison operator GEO Group.
Inmates at another GEO Group-run facility in Texas recently began a hunger strike to protest comparable conditions and mass deportations in the US.
Locking up undocumented immigrants is a profitable business for private prison companies in the US, who have spent more than $32 million lobbying on the federal level since 2000 to acquire more funds for private detention centers.
The three biggest companies — Corrections Corporation of America (CCA), the GEO Group and Management and Training Corp – have spent $45 million on Congressional campaign donations and lobbyists in the past decade to boost detention dollars.
Geo Group and CCA have contracts with ICE. Together their annual revenue is $3 billion.
In addition, American taxpayers pay an estimated $2 billion in 2012 imprisoning immigrants. Much of those funds will go to new facilities to house around 400,000 immigrants detained annually, the Associated Press reported.
Deportations averaged 1,000 a day last year, more than under any other US president. The Obama administration has said it will review its deportation policies in a move called by Democratic politicians trying to shore up support among Hispanic voters and advocates ahead of the November congressional elections, Bloomberg News reported.
You can share this story on social media: