Jailing immigrants is a booming business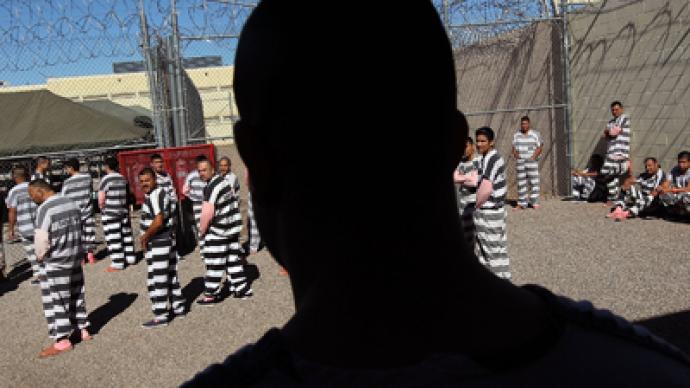 Locking up undocumented immigrants is a profitable business for private prison companies in the US, who have spent more than $32 million lobbying on the federal level since 2000 to acquire more funds for private detention centers.
American taxpayers are paying an estimated $2 billion this year on imprisoning immigrants, and much of those funds will go to new facilities to house the 400,000 immigrants detained annually, the Associated Press reported.Housing each undocumented immigrant costs taxpayers about $166 per night, which more than doubled since 2004.And more prisoners are being detained as the government increasingly charges immigrants with federal crimes for repeatedly entering the country. Ten years ago, about 3,300 illegal immigrants were held in private prisons. Now, that number has risen to more than 23,000. With this increase in detainees, private prison companies have seen their revenue rise from $760 million to $5.1 billion.The three biggest companies — Corrections Corporation of America (CCA), the GEO Group and Management and Training Corp – have spent $45 million on Congressional campaign donations and lobbyists in the past decade to boost detention dollars.While the companies deny trying to influence legislation, many of their campaign donations came after lawmakers supported legislation that would reap more funds – and detainees – for the private prisons."Follow the money. If the money is being increased significantly for illegal immigration, then that is a shift in policy… a significant shift,"said James Thurber, head of American University's Center for Congressional & Presidential Studies.According to an AP report Sen. John McCain received $71,000 after he stopped supporting a bill that would have given undocumented immigrants a path to citizenship. Rep. John Boehner, who has voted for bills that would help reduce illegal immigration, received $63,000. Republican Party committees, which generally support a tough immigration system, received $450,000, while Democrats received less than half of that.Much of the companies' lobbying funds also went to US border states that have high numbers of immigrants, including Florida and Texas.The Immigrations and Customs Enforcement (ICE) is now planning to build or expand private immigration jails in Newark, NJ, in the Chicago suburbs and in Caifornia's Mojave Desert.Pedro Guzman spent 19 months locked in a private detention center. Even though he was married to an American, ICE considered him a flight risk after missing an appearance for an asylum application his mother filed for him. After spending a year and a half locked up, he was granted legal permanent residency."It's a millionaire's business, and they are living off of profits from each one of the people who go through there every singe night,"he said."It's out money that we earn as taxpayers every day that goes to finance this."But while President Obama is encouraging agencies to look at alternatives to locking illegal immigrants up, Congress can approve as much detention spending as it wants, leaving room for private prisons to keep donating to key decision makers.
You can share this story on social media: