Anonymous takes on prison industrial complex with latest hack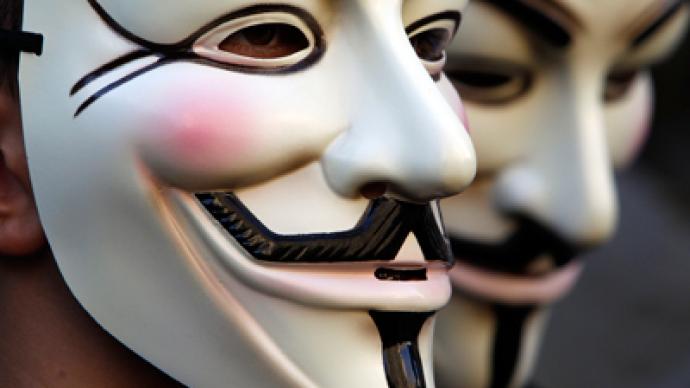 The prison industrial complex is the latest victim of Anonymous' #FuckFBIFriday campaign. Hacktivists have compromised data from a massive correctional facility management firm and have defaced their website.
The website for The GEO Group, Inc., a Florida-based management firm with clients worldwide, has been targeted by operatives with the online collective Anonymous. Friday's hack from the group is the most recent release related to the #FFF campaign that has in past weeks targeted and successfully taken down the sites of the CIA, FBI and US Department of Justice.Various Twitter accounts affiliated with the loose-knit group confirmed the hack at around 12:30 pm EST on Friday. A statement made by the group has replaced the traditional homepage of TheGEOGroupInc.com and other sites associated with the prison management firm have been "wiped off the net," says the group.Additionally, the group has added an image of prisoner Mumia Abu-Jamal and the audio of a song about him and the prison system to the company's homepage.The attack, reads a statement from Anonymous, is retaliation for a corrupt system that immensely profits off of the detainment of Americans across the country. As the prison industrial complex booms, management companies such as GEO have been tied to controversies. As RT reported last week, Corrections Corporation of America, the largest operator of for-profit prisons in the US, has spent millions of dollars lobbying Washington for stricter laws that would ensure that their facilities are regularly close to total capacity. As these companies spend money to make new laws and expand on others that target non-violent criminals, the companies responsible generate mass income from operating the facilities. As the GEO Group lobbies for legislation, it boasted a companywide occupancy rate of 96.6 percent in 2008.The CCA has been linked to lobbying for stricter immigration laws across America. Lobbyists for the GEO Group, including Austin, Texas' Lionel "Leo" Aguirre, rake in thousands each year persuading Washington to revamp legislation that will keep prisons packed as well. According to the Center for Responsive Politics' OpenSecrets.org site, Aguirre has received more than half a million dollars from the GEO Group since 2008. To Congress, Aguirre reveals in his lobbying reports that he is compensated for lobbying issues pertinent to the development and operation of detention facilities. He's been tied to lobbying on immigration issues as well, but is only one of many lobbyists working not just for GEO, but for the prison industrial complex."While most folks are suffering under the economy, many billions of dollars are being funneled into this sinister conniving alliance of capitalist and statist forces to try to build dozens upon dozens of new [p]risons across the world," reads the Anonymous-penned statement published Friday. The GEO Group, which was founded in 1984, turned revenue of $1.27 billion in 2010, reveals the group's annual report for that year. According to the report filed at the end of 2008 with the US Securities and Exchange Commission, at that time the group has nearly 60 facilities operating under its umbrella, serving accommodations for 53,400 detainees. The group merged with competing prison operators Cornell nearly two years later.Although the GEO Group has only expanded its operations in recent years, it continues to be marred with controversy. Eight prisoners died in just four years within the walls of a Pennsylvania facility operated by the group, and there have been at least two other reports of detainee deaths occurring after prison officials at GEO-run institutions denied them medication."Despite the well documented history of corruption, scandal and atrocities that companies like GEO perpetuate each and every minute our friends are locked behind their prison walls, the private prison industry is still booming," adds Anonymous.The Corrections Corporation of America recently appealed to 48 states across America, asking for them to consider selling off their prisons to the privately-run group. In their case, they insist that contracts will only be made if states can guarantee facilities maintain an inmate population close to capacity. Some say that this is accomplished by unjustly imprisoning many Americans."We are acting in solidarity with all those who have ever been wrongfully profiled, arrested, brutalized, incarcerated and have had all dignity and humanity stripped from them as they are cast into the gulags of America," states Anonymous. "When our comrades are locked up struggling against a repressive regime that has no concern for due process, we do not forget. When our comrades are ripped off their civil liberties and human rights, we do not forgive," they add.Along with a missive placed on the homepage of the GEO Group's website, Anonymous has installed an image of Mumia Abu-Jamal, who earlier this year reached the 30-year anniversary of being in prison, despite a plethora of legal concerns waged by activists who continue to rally for his release. Anonymous has also altered the site so that visitors to TheGEOGroupInc.com are exposed to an audio recording of the track "Mumia 911," which is performed by artists including Pharoahe Monch, Public Enemy's Chuck D and Zack de la Rocha of Rage Against the Machine.In the song, one verse rapped by Slimkid 3 proclaims: "Now they were playin God just to feel the power / Not to justify that of you and I / Holdin daggers up and lettin you decide / after passin information that's falsified / Stand behind a lie? What does it cost to die? / What does is cost to live? Why do they specify? / These terms of why when they ain't the most high / What they fear the will kill but the soul will never die.""I say fuck the police cuz they've been killing us for years / This ain't no free country niggas get murdered for their ideas," rhymes Dead Prez. " Free Mumia means all Africans let go / Cuz just livin in the ghetto puts you on Death Row."Anonymous has also publicized logs of their hack on the GEO Group and have included a copy of "God Only Knows What Devils We Are," a document recently released by The Institute for Experimental Freedom and CrimeThinc.com.Anonymous adds that later this month on February 28, hacktivists and members of the Occupy Wall Street movement will wage a mass protest together against the prison system. They say they "will be marching in the streets of the US to demand an end to the suppression of the occupation movement.""But our solidarity does not extend only to occupiers or political prisoners," continues the statement. "[W]e do not give any legitimacy or credibility to a justice system that look after their own prosecutors and pigs who get away with brutality and corruption, while they routinely murder innocent people on death row and locks up immigrants they deem 'illegal' while profiting by forcing them to labor for far less than minimum wage.""We will abolish their prisons in all forms, and run the pigs off of our streets. We will burn down their prison society, because only on the ashes of the old world can we hope to rebuild a new one," adds the group.
You can share this story on social media: