Stewart trashes O'Reilly in televised debate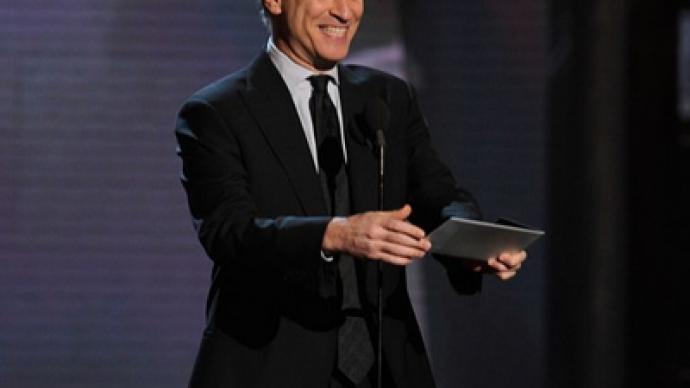 Whether you consider him a comedian, parodist or actual anchor, Jon Stewart has assumed the role—accidentally or not—as of one of the most respected American pundits representing the left.
Each time Stewart speaks with Bill O'Reilly, then, the country turns its heads to see what the two most iconic newsmen in America today—each with opposing ideals and ethoses—have to say to one another.Escalating opposition from conservatives as of late has turned what would appear to be a non-issue on the periphery—President Obama's invitation to rapper Common to read poetry at the White House—into one of the most heated news stories of the month. In a recent debate between Bill O'Reilly and Jon Stewart on Fox News' O'Reilly Factor, the Daily Show host managed to use his pro-Common stance as a means of also justifying other songwriters who have supported convicted cop-killers—and their own appearances at the White House—favoring support of many imprisoned who have been profiled before on RT.As Common's appearance has sparked controversy in the mainstream media, Stewart used the topic as a launching pad to remind America of Leonard Peltier, Mumia Abu-Jamal, Assata Shakur and "Hurricane" Carter, all of whom are believed by many to be wrongfully accused and imprisoned. O'Reilly calls Common a cop-killer sympathizer, but to Stewart and others, "he believes they were unjustly convicted."While O'Reilly opposes Common for his lyrical content—and even considers him to be possibly "radioactive"—Stewart's defense favors not just Common but also Bruce Springsteen, Bob Dylan and U2's Bono, citing the award winning-artists' support for Leonard Peltier and Mumia Abu-Jamal, other supposed cop-killers who have garnered support from activists who challenge the legal system's rulings against their favor.Just last month RT reexamined the case of Abu-Jamal, a former Black Panther, who has spent decades on death row for the murder of a Philadelphia, PA police officer. Common—along with artists as diverse as Rage Against the Machine and Jonathan Richman—have performed and advocated for his release. While Abu-Jamal has spent most of his life in prison, overwhelming evidence suggests he was wrongly accused. In late April, a US appeals court overturned his death sentence, giving him the opportunity to possibly avoid execution. Despite the importance of the case—and more particularly the illegalities involved in the proceedings—Abu-Jamal's story remains poorly covered in mainstream media. O'Reilly's main aversion to Common's appearance stems from the rapper's support of Assata Shakur, who has been charged with first-degree murder against a NJ police officer and has since sought out asylum in Cuba. O'Reilly cites Common's support as the celebration of a cop-killer, while Stewart seems to think that the only thing Common is doing is showing his support for someone he believes was convicted unjustly—as do many others.While O'Reilly is rarely at a loss for words, Stewart's rebuttal while in the hot-seat inarguably demonstrated a win for left-wingers. O'Reilly began the debate by firing at Stewart, "I'm shocked that you don't understand why people like me and millions of other Americans are upset, annoyed and looking for answers why a guy like Common would be invited to the White House," to which, in a span of ten minutes, Stewart furiously debunked O'Reilly's allegations and stood his ground, marking a clear victory for Stewart in a dialog between two of the most iconic political commentators of opposite spectrums in America today.Stewart refuses to call Common's stance a "celebration" of a cop-killer, as O'Reilly insists, but lauds the rapper for his willingness to support someone he believes is wrongly accused. O'Reilly and other right-wingers have spoken out against the administration's invitation extended to Common but, noting Fox's reluctance to attack other musical acts—those much more mainstream and nearly modern institutions in the realm of pop music—is an example of the network's "selective outrage machine," says Stewart.Stewart brings up the case of Leonard Peltier, a Native American activist who is currently serving two consecutive life sentences for execution-style shootings of FBI agents in 1975. "Guess who wrote a song about Leonard Peltier? Bono!" says Stewart."Guess where he was? The White House."Peltier has been nominated for six Nobel Peace Prizes in the 30-plus years he has spent in prison, though his fight for release has largely been ignored. "They have no evidence that he killed anyone and that is in the court records," said Betty Peltier Solano, the sister of Leonard Peltier, to RT last year. "The government is doing everything they can to keep him in jail as a scapegoat," she added.Stewart also discussed the trial of Rubin "Hurricane" Carter, the subject of the iconic 1975 Dylan song "Hurricane." President Bill Clinton presented Dylan with a Kennedy Center Honor at the White House in 1997, and only last year he was invited during the Obama administration to perform at 'In Performance at the White House: A Celebration of Music from the Civil Rights Movement."You may think he is ignorant for believe that Asada Shakur is innocent. You may think he is ignorant for believing that Mumia is. But then guess what? Bono can't go to the White House, Springsteen can't go to the white house, Bob Dylan can't go to the white house," says Stewart."You got a lot of people that aren't allowed to sit in the white house because they've written songs about people convicted of murder," he adds.
You can share this story on social media: