Thousands march for gun control in Washington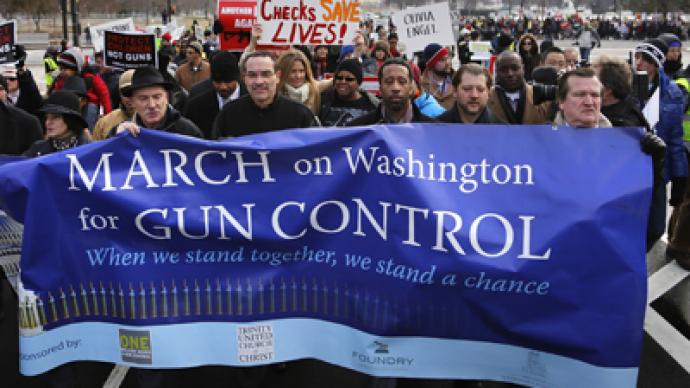 Amid growing national debate over gun violence, thousands of people marched in Washington on Saturday to press Congress and state legislators to back gun control measures.
The marchers were joined by some 100 residents of Newtown, Connecticut, where a mass elementary school shooting left 20 first-graders and six teachers dead.People in the crowd were seen carrying signs reading "We Are Newtown," "Guns Control Now," "Stop NRA," "What Would Jesus Pack" and many more. The demonstrators walked from the Capitol to the Washington Monument. Some held signs with the names of the victims of gun violence. Among the speakers at the event was Education Secretary Arne Duncan who reassured the crowd that gun control was not about limiting firearm rights guaranteed by the Second Amendment. "This is about gun responsibility. This is about gun safety. This is about fewer dead Americans, fewer dead children, fewer children living in fear."
He said he and President Barack Obama would do everything possible to enact gun control policies. The organizers of the march backed Obama's proposed sweeping package of federal gun-control laws, such as a ban on military-style assault weapons and high-capacity ammunition magazines."This is about trying to create a climate in which our children can grow up free of fear," Duncan said. "This march is a starting point; it is not an ending point … We must act, we must act, we must act."The horrific massacre at the Sandy Hook Elementary School in Newtown, Connecticut, has reinvigorated the national debate about gun violence. With exceptionally liberal gun control laws the United States has seen almost 88,000 Americans die in gun violence between 2003 and 2010, a UN reports says.According to a 2007 Arms Survey, Americans possess an average of 88 guns per 100 people – the highest rate of gun ownership in the world.
Saturday's rally comes a week after gun right advocates rallied across the country to show their opposition to firearms control. They argue that gun ownership is a constitutional right protected under the Second Amendment and helps protect their freedom.With a powerful gun lobby even bereaved family members, who've lost loved ones to gun violence admit that the change would be difficult to be achieved."It's difficult to get laws changed when politicians are bought out, but we have to start somewhere," said Amy Journo, 38, an occupational therapist whose two sons, ages 5 and 7, attended Sandy Hook."I want to ensure that they (children) are safer, not just my children but all across the United States," Journo said.Meanwhile, on the same day as the march took place, an unknown gunman opened fire outside a nightclub in Washington, DC, injuring at least five people, according to NBC4 Washington.
You can share this story on social media: