US Air Force nuke commander fired after drunken Moscow binge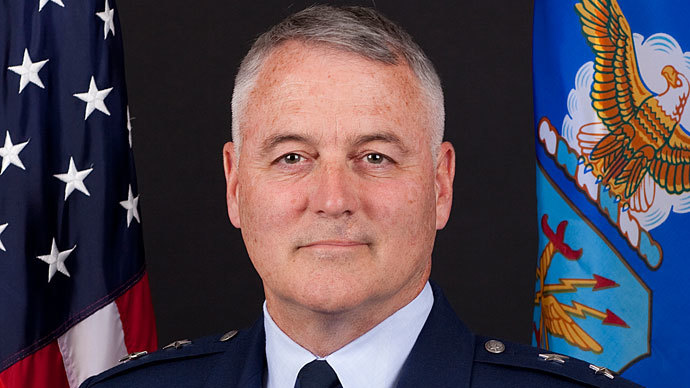 The US Air Force has published its investigation into a general who was fired months after a disastrous trip abroad, most of which he was found to have spent drunk and upset while in the arms of two foreign women considered by some to be a security risk.
Major General Michael Carey oversaw 450 nuclear-armed intercontinental ballistic missiles (ICBMs) before he was dismissed in October for personal misconduct during a four-day trip to Moscow in July. While in Russia, Carey "acted in a manner that exceeded the limits of accepted standards of good conduct," according to a partly redacted 44 page Air Force inspector general report made public Thursday after a Freedom of Information Act request.
Carey's trip was meant to be a nuclear security exercise but according to documents quickly went off the rails when he began drinking during a layover in Zurich, Switzerland which seemed to turn the following three days of a professional trip into a bender.
One witness stated that "Maj Gen Carey was visibly agitated about the long delay at Zurich, he appeared drunk and, in the public area, talked loudly about the importance of his position as commander of the only operational nuclear force in the world and that he saves the world from war every day."
Carey and a colleague met two "hot women," in Carey's words, at the rooftop bar of Moscow's Ritz-Carlton hotel. The pair reportedly told Carey they worked in the travel business but did not make it clear whether they were Russian or British.
Carey then arranged a meeting with the women, who likely presented a security situation, for the following night, taking members of his staff to a restaurant with the knowledge that the pair would be there.
"Lt Col [REDACTED] also recalled the two women's arrival that that Maj Gen Carey got up went to the table with the two women, 'then two young ladies came in and said hello to everybody at the table…which surprised me. And then the General and the translator went over and sat with them.'"
Carey danced with one of the women at the restaurant, which was called La Cantina, before she kissed him on the cheek.
"While at La Cantina, witnesses stated that Maj Gen Carey had alcohol and kept trying to get the band to let him play with them…According to Mr. [REDACTED], the band did not allow Maj Gen Carey to play with them," the report stated.
Observers have noted that the two women, either as a result of their encounter with Carey or because they were prepared to meet him, were likely aware of Carey's stature in the Air Force. The general admitted as much during an interview with investigators.
"It just seemed kind of peculiar that we saw them one night and then saw them again later while we were there," he said later. "For people who are in business to be kind of conveniently in the same place where we're at, it seemed odd to me."
Later, at an official banquet, the general "stated that he only had about half a dozen shots of 8 ounces and sipped on some toasts and finished his glass on others. He also stated that he didn't remember the particulars of any of his toasts other than them being about camaraderie."
Carey admitted to an encounter with "a tobacco store lady talking about physics in the wee hours of the morning," and was accused of being rude to those Russians assisting him throughout the trip.
"The IO found that Maj Gen Carey was frequently rude to both his fellow delegates and to his Russian hosts during the exercise and briefings…In particular, the IO noted the Russian reaction to Maj Gen Carey's comments about Syria and Eric Snowden. (Ex 22:25-26) He was similarly rude to his fellow US delegates on the walk to Red Square, when he was unable to keep up, pouted and sulked, and then complained repeatedly about the exercise itself."
Following the Moscow incidents, the Air Force issued Carey a "letter of counseling" and removed him from his position, making him the special assistant to the commander of the Air Force's Space Command instead. Carey retained his Maj Gen rank and will not face any other discipline, the Air Force has said.
"This was an unfortunate incident," General William Shelton, chief of Air Force Space Command, told the Washington Post. "Major General Carey has otherwise served the nation extremely well."
Others were less generous in their assessment of the General's behavior. A female official whose name was redacted from the report told investigators she "realized that this was putting us all at risk, especially Russia and women, and I just wanted nothing to do with that."
You can share this story on social media: