US eases restrictions for asylum seekers who gave 'limited' support to terror groups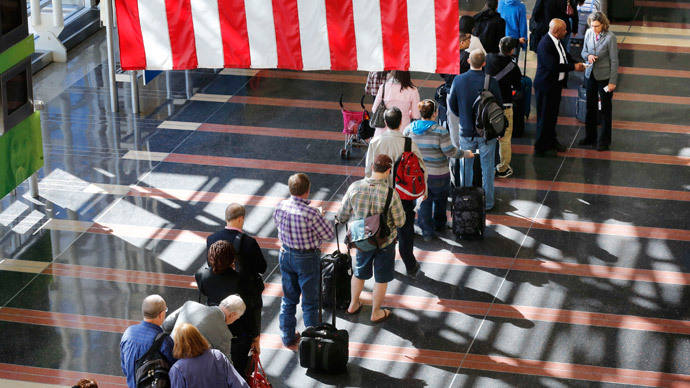 The Obama administration has relaxed its rules for potential asylum seekers and refugees in the US who may have terrorist links or who have given "limited material support" to groups classed as terrorist organizations.
The move marks one of Obama's first steps towards softening up immigration rules since promising to use more executive directives in his State of the Union address last month.

People who fall under the banner of those known to have provided "limited material support" were previously prevented from entering the country on "terrorism related inadmissibility grounds" by the Department of Homeland Security.

The measures were introduced in the wake of 9/11 and affected everyone seeking to enter the US or extend a visa, if they were believed to have given such limited support. No exceptions were made.

Now the law will examine whether support could have been either limited or part of "routine commercial transactions or routine social transactions."

The Department of Homeland Security and the State Department published the new exemptions Wednesday in the Federal Register, narrowing the ban in the Immigration and Nationality Act.

Republican House Speaker John Boehner aired grave doubts that Obama's immigration laws would be implemented this year. Some have even suggested they may not be enforced until after Obama leaves office.

US Senator Charles Schumer (D-NY) told NBC's 'Meet the Press' on Sunday: "Now, I think the rap against him that he won't enforce the law is false. He's deported more people than any president but you could actually have the law start in 2017 without doing much violence to it."

The Homeland Security Department says the rule change will not open the country to terrorists, as those seeking refugee status or a visa will still be subject to thorough security checks.
The US 'War on Terror' –the international military campaign which snowballed following 9/11 – has resulted in extensive operations in Iraq, Afghanistan, Pakistan, the Philippines and Somalia, among other places, has seen tens of thousands of deaths. START – a University of Maryland terrorism database- shows that terrorist attacks have actually increased in the last nine years.
You can share this story on social media: