Father of slain Tsarnaev associate pens letter to Obama, alleges FBI deliberately killed son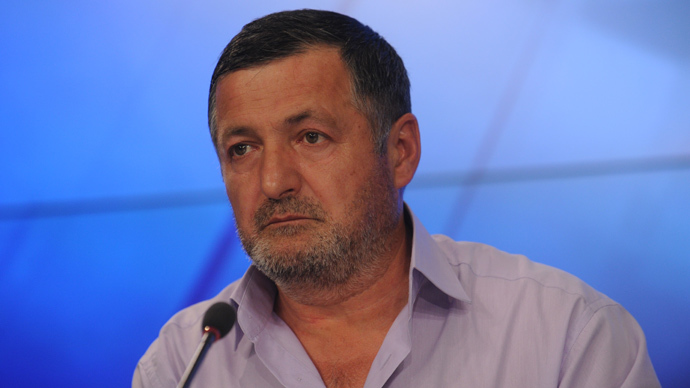 ​The father of Ibragim Todashev, former friend of alleged Boston Marathon bomber Tamerlan Tsarnaev, has released an open letter to President Barack Obama calling for justice after his son's murder. Todashev was killed by FBI agents in May.
Abdulbaki Todashev's letter includes photos of his son's bullet-ridden body and his bloodstained Orlando, Florida apartment. Ibragim was shot to death by an FBI agent accompanied by two Massachusetts State Troopers, according to Boston magazine.
Also included is a photo of Ibragim's knee following a surgery he had in March, which the senior Todashev says is proof that his son posed no harm to the FBI agent who killed him.
In the letter, Abdulbaki Todashev says the FBI deliberately tortured and killed his son and proceeded to intimidate and deport his son's acquaintances in the ensuing months.
Todashev calls on Obama to keep the FBI from interfering with the current independent investigation into his son's death.
Todashev's letter states:
"Did my son know that he had the right to remain silent or did he have rights at all, including the right to live? Being a citizen of another country he might not be aware of the laws as he was only 27 years old and wanted to live so much. No, they left no chances for him inflicting 13 gunshot wounds and multiple hematomas on his body. After what FBI agents have done to him whatever excuses they come up with nobody would believe them because my son is dead and cannot talk for himself. They did it deliberately so that he can never speak and never take part in court hearings. They put pressure on my son's friends to prevent them from coming to the court and speaking the truth."
"I rely on you, Mr. President, and hope that the prosecutor's office and the court do not let the agencies conducting internal investigation on this case prevent the truth from coming to light so that at least some part of our grief, caused by the murder of our son, is relieved, and that the murderers stand trial instead of sit in their desk chairs."
The investigation is being conducted by Florida state attorney Jeffrey Ashton. The lawyer released a statement earlier this month saying that he had received additional information on the killing from the US Department of Justice. He said he would unveil the report's findings early next year.
Federal prosecutors have stated that Ibragim allegedly implicated Tamerlan Tsarnaev in a 2011 triple murder in Waltham, Massachusetts. Anonymous FBI sources told reporters that Todashev also implicated himself in those murders. Sources have provided conflicting reports on exactly how Todashev died.
Friends of Ibragim Todashev, a Chechen national, told the Florida chapter of the Council on American-Islamic Relations (CAIR) that FBI agents asked them to spy on Orlando-area mosques, threatening arrest if they failed to comply.
One friend of Todashev, Ashurmamad Miraliev, was arrested by the FBI on September 18 on a warrant for supposedly threatening a witness in an Osceola County battery case 14 months ago.
Yet following his arrest, he was interrogated for six hours only about associations with Todashev - despite repeatedly requesting his right to an attorney, CAIR-Florida said. The FBI agents allegedly responded, "That is not happening."
We "didn't ask him anything about the alleged charges. Just interviewed him for over six hours trying to get as much information on Ibragim Todashev as possible," Hassan Shibly, director of CAIR-Florida, said at a September press conference in Orlando.
CAIR-Florida requested the US Department of Justice open an investigation into the allegations of civil rights violations and abuse by the FBI of Todashev's friends.
Shortly after speaking to Boston magazine in September regarding her own dealings with law enforcement since the Orlando slaying, Tatiana Gruzdeva - girlfriend of Ibragim Todashev - was arrested in Florida by immigration officers and told she would be deported for talking to the press.
Gruzdeva told the magazine that in May she was interrogated by agents about any connection she or Todashev had to Tsarnaev and the Boston Marathon bombing. Agents eventually sent her to immigration officials. She was detained until August, at times in solitary confinement, before being told she would be released and had another year to stay in the US legally. Regardless, Gruzdeva said she "had gone to sign work papers at the local immigrations office" where she was then arrested and told she would be deported for allowing the magazine to interview her.
Boston magazine reported that Gruzdeva was deported to Moscow.
Tamerlan Tsarnaev died days after the Boston Marathon bombings, during a shootout with law enforcement in Watertown, Massachusetts.
Tsarnaev's brother and alleged co-conspirator, Dzhokhar Tsarnaev, was also shot during the encounter, but managed to escape in a stolen vehicle he later abandoned. A day later, Dzhokhar was found wounded in a Watertown backyard during a massive manhunt. He pled not guilty to 30 counts against him on July 10 in a Boston federal court.
Dzhokhar is being tried for killing three people and wounding more than 260 others in a double blast at the Boston Marathon in April 2013. His lawyers have been given until February 28 to decide whether they will request that the case be moved outside of Boston. However, the attorneys have asked for that deadline to be extended because Attorney General Eric Holder is not expected to announce whether prosecutors will seek the death penalty until late January.
You can share this story on social media: