'Untrustworthy and dishonest': Obama's popularity hits all time low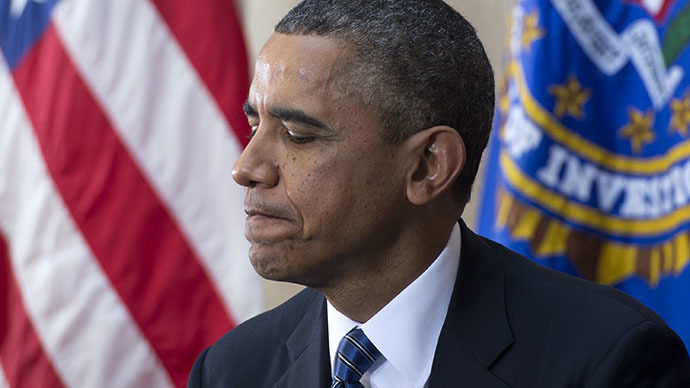 US President Barack Obama's popularity has hit an all-time low, with a majority of Americans now saying he is dishonest, untrustworthy and not competent to govern, according to a new national poll.
The Quinnipiac University Polling Institute was conducted amongst 2,545 registered voters nationwide between November 6-11, with a margin of error of plus-minus 1.9 percentage points.
Overall, only 39 percent of Americans now approve of the job President Obama is doing, his lowest approval rating ever registered by the respected Quinnipiac University Polling Institute. Fifty-four percent, meanwhile, disapprove of his performance.
Voters in every age and income bracket view his performance negatively, with senior citizens giving him a particularly low 36 percent approval mark.
The biggest group to abandon the presidential ship was women voters, with his overall approval rating dropping to 40 percent. Fifty-one percent, on the other hand, disapprove of his performance.
Also for the first time, only 44 percent of Americans now view Obama as trustworthy and honest, while 52 percent say he's not; the first time a majority of Americans have doubted his credibility. He also slumped on efficacy marks, with 53 percent of Americans now saying his administration is not competently running the government, while 43 percent retain faith in his ability to govern.
President Obama's lowest score before the polling results were released on Tuesday was a 55 - 41 percent disapproval in an October 2011 survey.
"Any Democrat with an 11-point approval deficit among women is in trouble. And any elected official with an 8-point trust deficit is in serious trouble," said Tim Malloy, assistant director of the Quinnipiac University Polling Institute.
Malloy said Obama has naturally gone through the cycle of any new president, where the "honeymoon period" saw his approval ratings hover in the high 50s, only to eventually drop to the "respectable, though not overwhelming, 40s."
"President Obama's job approval rating has fallen to the level of former President George W. Bush at the same period of his Presidency," Malloy added.
Bush's level off approval dropped to 39 percent in 2005, although by 2008 he would hit the lowest approval rate in modern history: 28 percent. Only President Harry Truman, mired in the Korean War and battling back inflation, scored lower with a mere 22 percent of voters approving his performance in 1952.
A primary reason for the slump is disaffection with Obama's broken promise that voters could keep the health care plans they already had under the Affordable Care Act (ACA).
American voters are divided 46 - 47 percent on whether Obama "knowingly deceived" the public when saying people would be able to keep their plans.
A majority of Americans remain opposed to "Obamacare" - 55-39 percent. Only 19 percent of Americans believe the program will increase the quality of care they and their families will receive, while 43 percent say it will get worse.
The president continues to score high marks among Democrat African American voters, who approve of his performance 79 percent and 75 percent respectively.
The one issue Obama receives a passing grade on among a majority of American is his handling of terrorism, which garnered a 52-42 percent approval rating.
Regarding his handling of foreign policy, immigration, the federal budget and the economy, however, Obama did not break the 40 percent approval threshold on any of those issues.


You can share this story on social media: