Millions with individual insurance plans could expect cancellation letters – report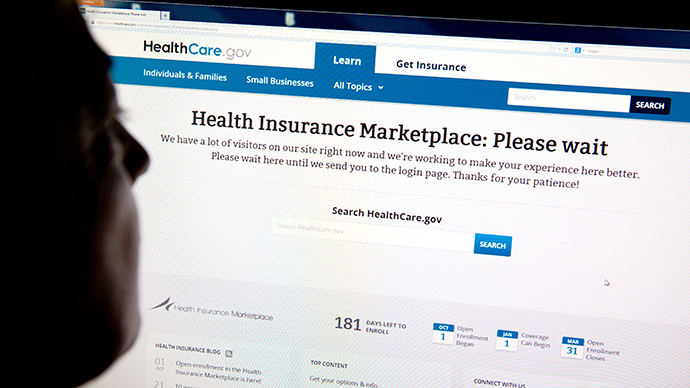 Millions of Americans are expected to lose their insurance because their current plan does not meet the new Affordable Care Act standard, according to a new report.
The Affordable Care Act, also known as Obamacare, states that insurance policies in effect as of March 23, 2010 would be "grandfathered" into effect. This means customers would be able to hold on to their existing policy even though it does not meet the new Obamacare requirements, which went into effect on October 1, 2013. 
But in the time since the Affordable Care Act was signed, the Department of Health and Human Services added stipulations that narrow the so-called grandfather provision. Any policy that was significantly changed – for example: the deductible, co-pay, or benefits, among other factors – would not be grandfathered. 
NBC News reported that few Americans were aware of this creeping regulation, though cancellation figures have been available since 2010, and somewhere between 50 and 75 percent of the 14 million customers who buy their insurance individually should expect a "cancellation" letter sometime within the next year.

One source said the total may be as high as 80 percent, with those forced to buy new policies expected to experience "sticker shock" at the pricey new rate prior to any applicable government subsidies.  
Making matters worse is a little noted estimate from July 2010 warning that "40 to 67 percent" of customers in the individual insurance market will not be allowed to keep their policy. 
US President Obama ran for office in 2008 promising that he would make healthcare more accessible for Americans, pledging again in 2012 that "If [you] already have insurance, you will keep your health insurance." 
When pressed on the seeming contradiction Monday, White House spokesman Jay Carney did not refute that a large number of current insurance holders could find themselves in a worse situation next year. Rather, Carney stressed that such plans failed to meet federal standards, a line echoed by supporters of the ACA provisions like former DNC head Howard Dean, stressing that the cancellations would occur with plans that offered inadequate coverage for customers. 
"What the president said and what everybody said all along is that there are going to be changes brought by the Affordable Care Act to create minimum standards of coverage, minimum services that every insurance plan has to provide," Carney told reporters. "So it's true that there are existing healthcare plans on the individual market that don't meet those minimum standards and therefore do not qualify for the Affordable Care Act." 
This is just the latest Obamacare hurdle. The website customers were told to enrlol with has experienced intermittent outages since its debut, with countless Americans unable to sign up. 
South Carolina resident Heather Goldwater told NBC she was running her own public relations firm while taking care of her new-born baby. She said she hoped the new law will succeed, and was especially thankful to not have to worry about losing her coverage because of a pre-existing condition, yet does not have time to find a new plan since losing her individual insurance last year. 
"I'm completely overwhelmed with a six-month-old and a business," she said. "The last thing I can do is spend hours poring over a website that isn't working, trying to wrap my head around this entire health care overhaul.
"I'm jealous of people who have really good health insurance," Goldwater continued. "It's people like me who are stuck in the middle who are going to get screwed."
You can share this story on social media: